How do I create a Google ad? Introduction to the Google Ads launch process
Google is the world's most popular search engine, receiving 3.5 billion search queries a day.
Google Ads is a business service offered by Google, commonly known as pay-per-click.

As the army grew larger and larger, Mr. Tupa wanted to introduce the creation process for Google's ads.
Are you ready to try starting your Google Ad account?
This guide will show you how to create ads and rough processes.
The general process is:

Step1 to set up Google Ads account



Creating a Google ad account is actually a very simple process, but also the basis of advertising, here is not introduced, there are many tutorials on the Internet.
But it still needs to be cleared up.Google Ad Account Structure, is very helpful for advertising.
Step2 Builds Campaign Campaign


Build an ad campaign by "plus"

Step3 Choose the type of ad you want to hit


Before you start advertising, you have to decide the type of ad you want to serve based on your goals, industry, and product service characteristics
There are five broad categories of Google ads:
Search for ads
Show ads
Shopping ads
Video YouTube Ads
App ads
If you're just new, it's recommended to start with a search ad(also known as a keyword ad).
The following procedures are also shown using search ads as examples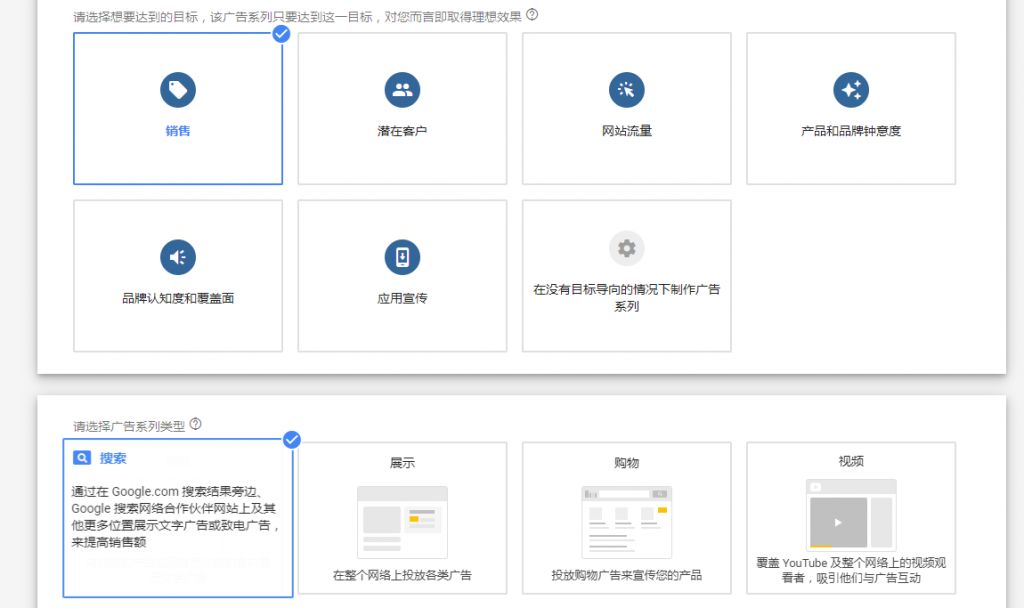 Step4 Choose what you want most


Most people advertise, and at first they get dizzy by Google's cumbersome settings. But in fact, it is not so complicated, after the steps and the structure, it will be very simple.
Among them: the selection of targets this point is often ignored by many people.
Everyone uses advertising goals are different, some are to improve website traffic, exposure, some are to increase the number of calls, app downloads, so please choose according to your goal.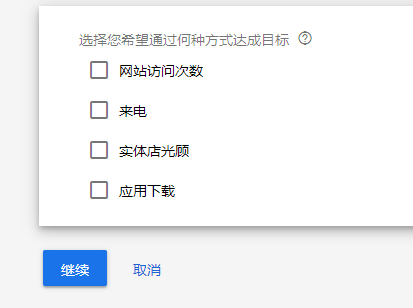 Step5 Advertising Campaign


General settings
Before you put your keyword ad out of the market, set the following options:
1. Area:
You can set the area you want to put in, e.g.: USA, United Kingdom....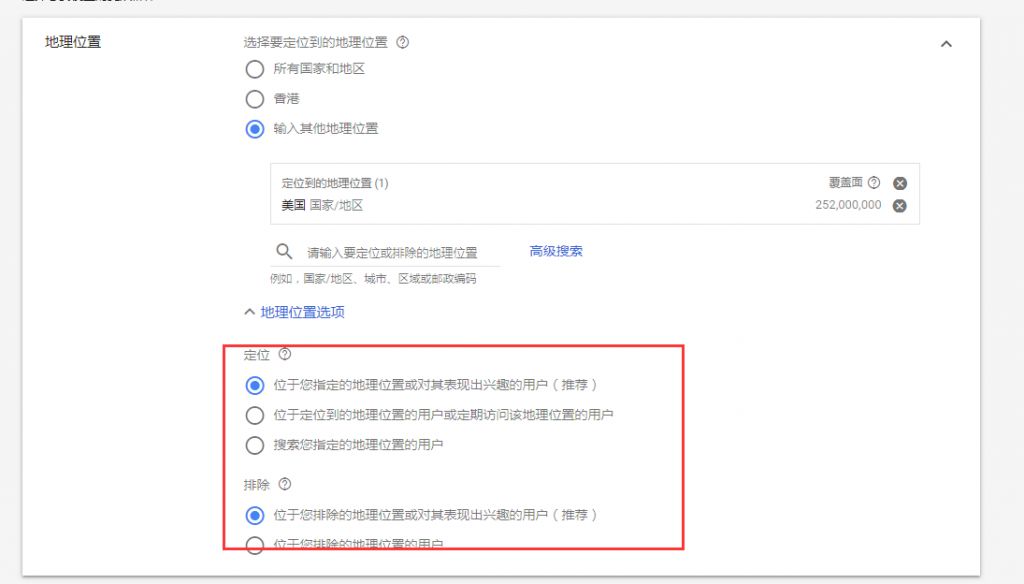 Pay attention to the next positioning settings:
It's a good idea to choose from a user who is located in a location or who regularly accesss a relocation.
Because this choice is to be able to deliver the most accurate to the corresponding area of the people, to ensure that the crowd is living in the area, only these people can see your ads.
You can also set the area to exclude.
2. Language:
If your market is in an English-speaking country, you can choose English
3 Budget:
You can set Standard or Acceleration.
If you choose the standard, your advertising budget will be evenly distributed within 24 hours;
If you choose to speed up, Google will "do whatever it takes" to expose your ads, and if your budget isn't enough, it may run out of money before noon!
Pay attention:
When the budget is not large enough, with the standard can be, accelerate the application for short-term high exposure, EX time-limited special activities.
4. Bid:
Google ad bid a total of 9 options, if you are only a beginner, here is recommended to try as much click /as much as possible to get more clicks (Maximize clicks), at the beginning as far as possible to drive the most traffic to the site.
You can choose to bid manually or smartly later.
Set a cap
Suppose you set a limit of $10, then Google Ads won't cost more than $10 per click each time.
But if you set it too low, your ads are hard to expose because there are so many people who bid higher than you.
The price of each keyword varies according to the degree of competition, and you need to use the keyword planning tool to decide your bid.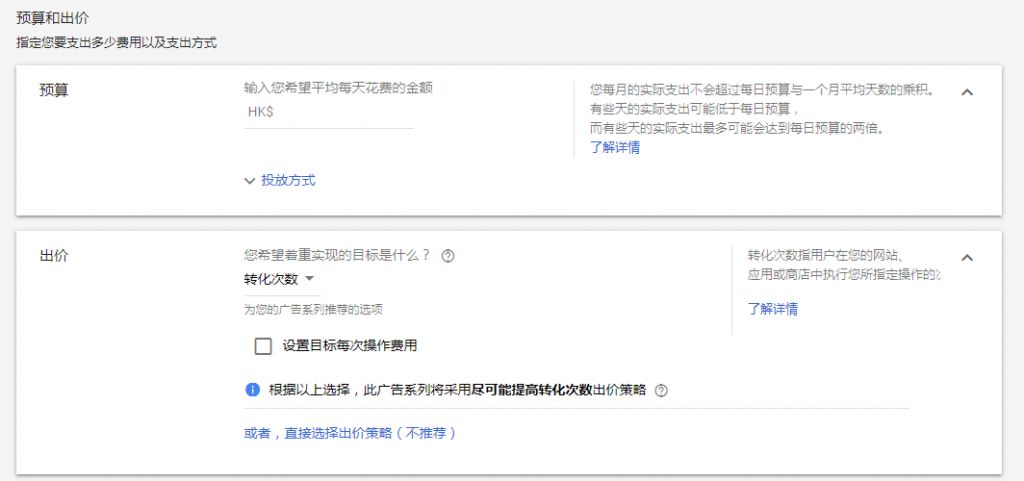 5. Start and end dates:
If necessary, you can set your end date, or your ads will keep coming.
6. Audience:
This feature is a bit like the "interest" of FB ads, and if you want to push women's shirts today, your advertising audience may need to choose a fashion-related audience.



7. Ad extensions
You can skip before you set

The options are:
Add-on slink Sitelink extensions
Selling Point Callout extensions
Structured code segment Snippet extension
Call Call extension
Send a message Message extension
Location Location extension
Alliance Merchant Sei/O
Price Price Extension
App App Extension
Promotions Promotion extension


Once you've completed your ad's basic settings, you'll have to set up your ad group to decide which keywords your ad will appear on.
Keywords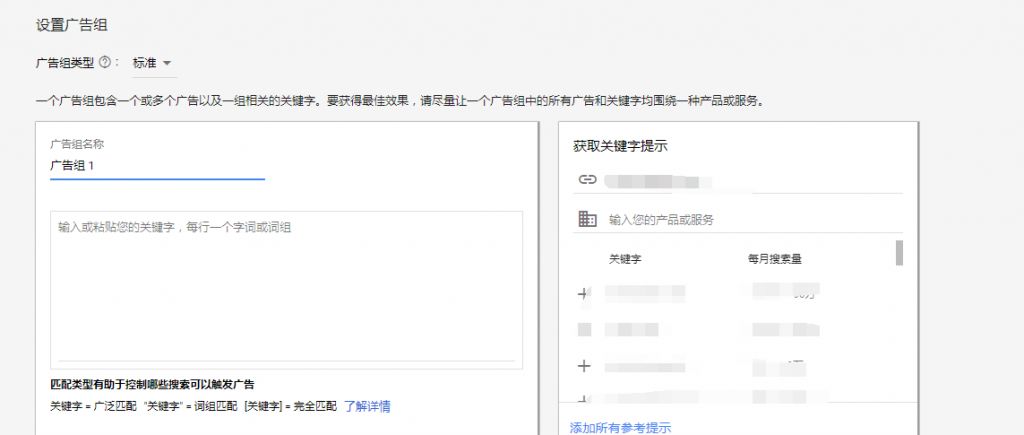 Paste the collected keywords above.
But to pay attention to the matching of keywords, will affect the maximum effect of advertising, detailed description, you can read this article:
What is Google Ad Keyword Match Type
In addition, I will decide on the keywords I want to type based on existing products and services, so I may have "men's top", "men's pants" and "women's top" and so on, I will set up at least three ad groups to distinguish between different keywords, for different keywords to set the most relevant landing page.
Remember!Don't put keywords in the same ad group, because "men's tops" and "women's tops" are completely different things, and their copyand and landing pages are naturally different from each other's


The design of advertising copy is also a university question, teach you a few tricks, first go to google to see the ads under this keyword, other people's copy is how to design, and then write a better ad copy than them: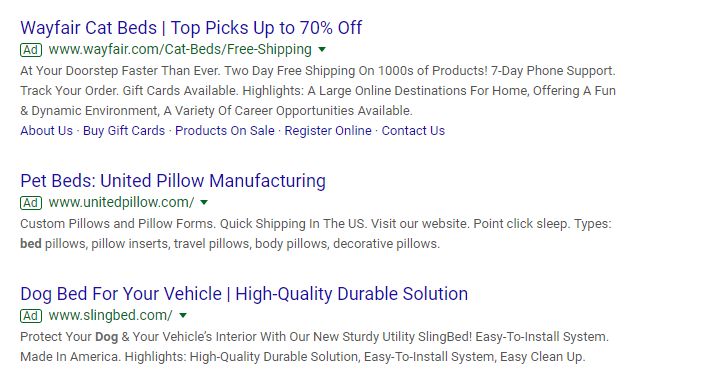 Or use tools such as SEMRush to see how a competitor's advertising words are written and imitate them: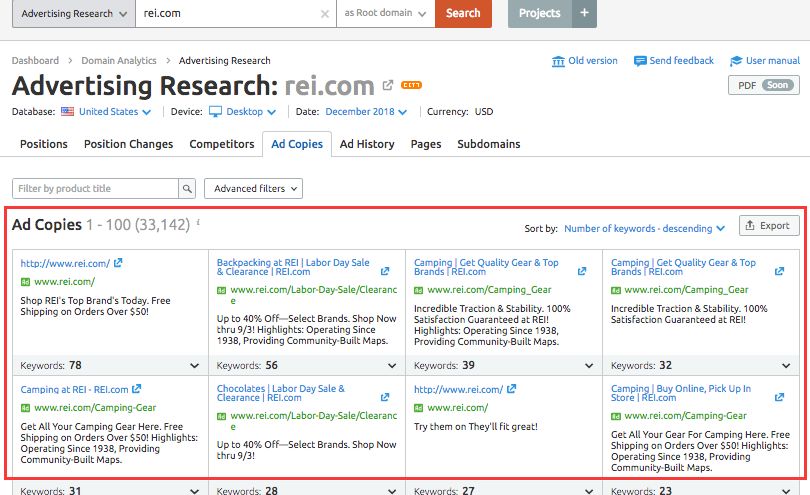 Then fill in the specific advertising words based on the product or service you offer:
Each title can contain up to 30 characters, including spaces.
The description can be described up to 90 characters.
Display path appears on the search results page and allows you to customize how url paths are displayed.
For example, the landing page where you sell "big dog bed" is: example.com/online-big-dog-beds-sale-/
The path here can be set to: /dog-bed or /dog-bed/big-size gives the user a general idea of the product and realizes that clicking on the ad corresponds to a page related to the ad word.
Final URL This is the target page that users will visit when they click on the ad, and we also call the landing page. Ensure that the landing page is relevant to search queries and provides a good user experience.
This is an important part of Google's campaign structure, as it directly affects users' click-through rates and brand impressions of your ads.
On the right, you can instantly browse the ad performance that you filled out: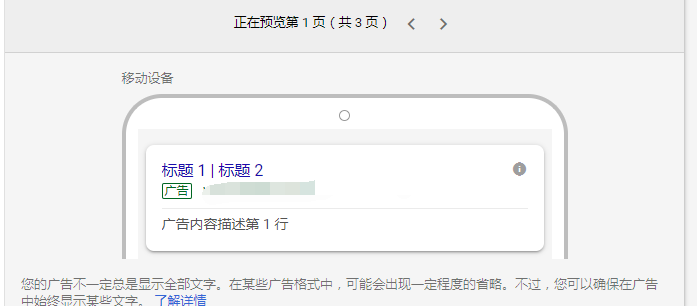 Your ads don't appear on google right after they are posted, google will review it and you won't see your ad on google!
In this way, your ads will be running smoothly! !
Finally, we'll have to check it out.Google Ad SettingsSituation, such as whether the budget is set right, whether the advertising words have any grammatical errors, etc. , to find gaps, and then optimize.
Peace Out
Sweeping to focus on Mr. Tupa
Get more foreign SEM, SEO dry goods
Give me a look.
The better you look!
---