How do I run ads on Google Ads? In just 12 steps, teach you how to advertise on Google!
Click on topHugo.com, don't miss cross-border e-commerce size
Google Ads is a pay-per-click (PPC) system where when people look for information about your product or service, your brand appears on the search results page.

In this article, we'll discuss how to use ads on Google to raise awareness of your business. Here's a step-by-step guide to how to advertise on Google:
The first step is to create an account with Google AdWords. The whole process is as easy as creating your own e-mail account. You don't need expert help. All you need to do is go to Google Ads and fill in the information you need.
You'll need to enter your billing address, time zone, and currency. That's all you need to create an account on Google Ads. It's free and only takes a few minutes. Before you start selecting your campaign goals, switch to Expert mode.
Identify your campaign goals
When you start running a new online campaign on any platform, you need to know exactly what you're going to achieve. When you have a clear goal in your heart, the ad creation process is smoother.
Google Adwords offers users a variety of online ad choices: search ads, display ads, shopping ads, video ads, and app ads. You can use different types of ads to achieve different goals.
Here's a quick guide to how to choose your ad type based on your goals:
For further segmentation, you can select the following goals for Google Ads:
Search ads and shopping ads
Drive sales and conversion rates through your app, phone, or store
Contact with customers who are about to purchase products or who have contacted you
Encourage customers to give you their contact information
- Push visitors to your website
In addition to searching for ads, display ads can help you do the following:
Introduce the product to the target audience
Motivate potential customers to develop your products
Increased brand awareness
Expand your reach when you launch a new product or enter a new market
Encourage potential customers to install your app
Choose your campaign type
Once you've identified your campaign goals, you'll be able to choose a campaign type for Google Ad. The campaign type you choose will determine where your ad will appear.
In the screenshot below, you can see the options provided by Google AdWords: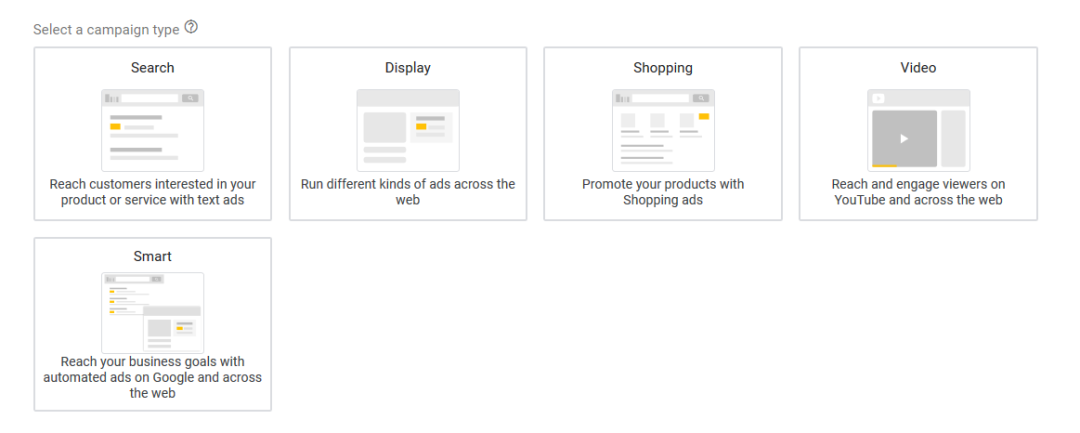 (Photo: Google Ads)
When you hover over each given type, you'll see how each type can help you. If you want to automate your ads, you can choose Smart Campaign. With this option, you can automatically run ads on Google Maps, Google, and the web.
You can get different sub-options for different ad types on Google AdWords.
For example, if you choose to search for Search, you'll need to activate this option to choose which method you want to achieve your goals. You can choose from a given selection of options, including phone calls, website access, store access, and app downloads.
Complete your campaign's settings at a given step of your campaign type.
The next step in running ads on Google is to choose where your ads are. By choosing a specific location, you can better target your ads and get high-quality leads. By default, Google AdWords shows ads to people based on where they can see them.
If you want to narrow your search, you can also choose a country or city. Under its target option, you can even add miles or kilometers around a location. This option is helpful for sellers who run a brick-and-mortar store.
You can also exclude specific locations that you don't want to display on Google Ads. The benefit of using targeting is that you can see the expected coverage of your ads and further customize the target by excluding or adding additional parameters.

Choose your target language and audience
It is difficult to communicate your ad message to an audience in different languages. When you use Google Ads to serve ads, you can use language targeting to solve this problem.

This option allows you to select the user's language. As a result, your ads will only be shown to users with the same language preferences or to site users in the selected language.
If you want to show your ads to Spanish-speaking people, you should choose Spanish as your campaign language. In addition, creating ads using Spanish keywords and ad text is a good choice.

After you select a language, you'll need to select a target audience for your campaign. Google AdWords gives you a variety of audience targeting options.
You can narrow your search by education, marital status, parental status, interests, and other factors. You can also choose based on what they are working on or how they interact with your business.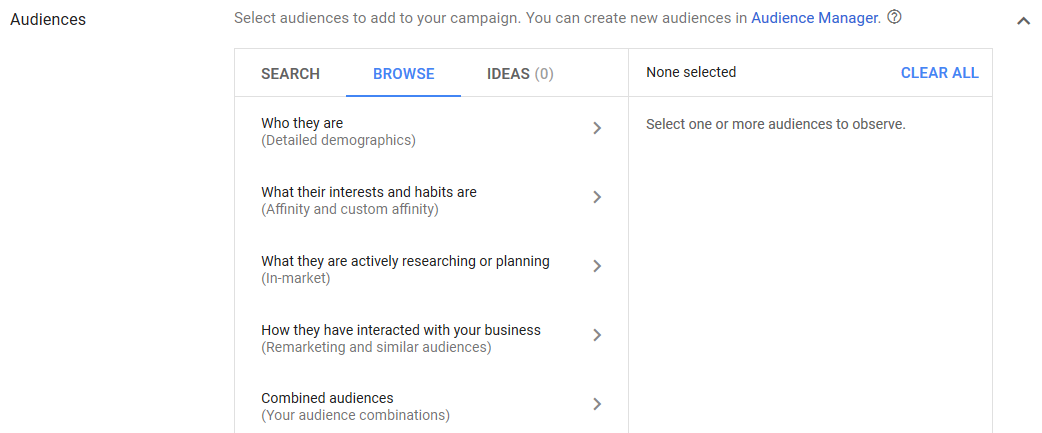 Alternatively, you can select the Observation option. Using this setting does not affect the overall coverage of your campaign. This option will allow you to monitor the performance of your ads against the audience, theme, or placement you choose.
This feature allows you to see how specific conditions are performing without limiting the scope. This is a useful feature for those who are still trying to determine what ads are right for them. You can make changes to your bids based on your own observations.
If you're just starting to run ads, you need to figure out how much you'll spend on Google Ads.
Google does not have a minimum or maximum ad spend. Your bid amount will vary depending on the campaign type, keywords, and the cost of keywords.
According to one study, the average CPC of Google AdWords in different industries on the search network is about $2.69. The multimedia commercial co-broadcast costs $0.63.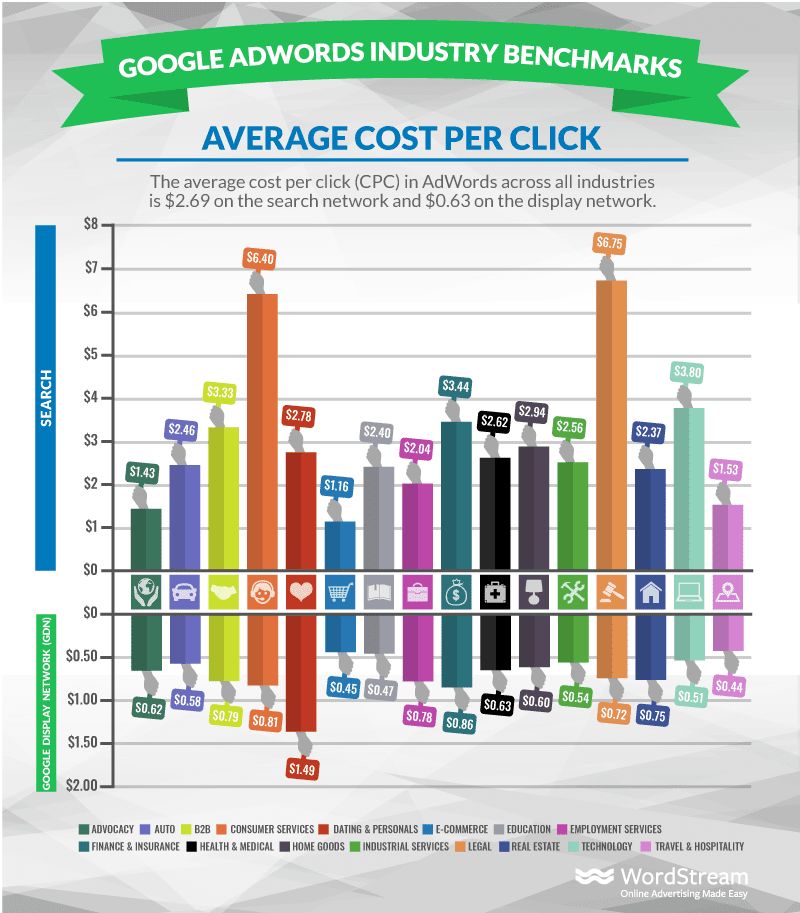 (Photo source: WordStream)
For starters, it is recommended to use pay-per-click (CPC) bids. With this option, you can pay the maximum amount per click on your ad. It all comes down to the value of ad clicks.
When you set the maximum bid for each CPC, that bid applies to all the keywords you select for your campaign. If some keywords are more valuable to you, you can change the amount of their bid. To make a keyword bid, you need to click on the bid amount given in "Max CPC".
Choose your ad extensions
Once you've set your budget, you'll also need to continue to select ad extensions.
Ad extensions are information that appears on Google's search results page with ads, and are intended to improve the effectiveness of ad copy. These additional information can provide your users with more information, but also can improve the click-through rate of your ads.
There are 3 types of ad extensions
Additional phone information: Phone numbers can be added
Additional promotional information: USP can be added to make your ads more attractive (e.g. free shipping, 24-hour service, etc.)
Add-on links: You can add other relevant links to your site (e.g. About Us, Contact Us, etc.)
In the screenshot below, you can see that the ad includes phone numbers, links to other pages, and other relevant information. These are advertising extensions.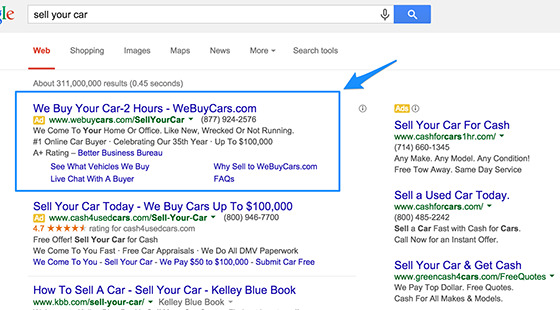 (Photo: Google)
There are many additional benefits to using additional information. For example, it allows you to measure clicks on a particular link. Alternatively, you can run short-term online campaigns for pages that users might miss. You can use attachment information to raise brand awareness and get more potential customers.
The next step in setting up Google Ads is to create an ad group by selecting the target keyword.
When you create an ad group, you'll be able to see estimated daily clicks, CPC, and total cost. This can help you identify the target keywords.
Keywords are the basis of advertising targeting. If you don't find the right keywords, your ads won't reach people who are looking for your product or service. This may cause your Google Ads campaign to underperform.
Of course, you'll need to do some research in advance to find the right keywordfor your campaign. Try not to add too many keywords at the same time and focus on keywords that are more likely to bring traffic or new leads.
To find keywords related to your brand, you can use tools like Google Keyword Plan. All you have to do is enter basic keywords and search.
This tool will give you a list of relevant keywords from which you can pick out the keywords your audience is more likely to use. You can also find the lowest and highest bids for each keyword.
Focus on long tail keywords. These phrases with three or more phrases may work better and meet the needs of the user.
For example, if you search for "tickets," the search term is too broad. If you search for "cheap flights from Barcelona to New York" is very specific. This keyword indicates that users are looking for cheap flights.
Depending on your niche, budget, and campaign type, you can choose the right keyword for your campaign.
Get ready for your landing page.
If your goal is to attract traffic or potential customers, prepare a reliable landing page in advance.
You can create amazing PPC campaigns, but if your landing page isn't designed well, it'll discourage potential customers.
To get your audience involved, you can design ad-specific landing pages. If your PPC advertises a specific product, you can create a simple but attractive landing page to display.
If your ad redirects potential customers to the home page, they may not be able to find what they're looking for. Customized landing pages shorten sales channels and get faster results.
In addition, the landing page will allow you to customize the call term (CTA:call-to-action). If your target PPC campaign targets those who want to buy a new car, you can customize the CTA like this: "Get This Car." When it comes to landing pages and CTA, you need to do A/B testing to find the right way for you.
Preparing an advertising copy
Once you've completed all of these steps, you're ready to prepare your ad copy. You'll need to enter all the details that will appear in your ad. You'll also need to add a "Final URL" to transfer the click to the page URL.
You can add three titles to your ad. Between each title, use the words """"""""""""""""""" Separated. On mobile devices, the second title can be wrapped to the second line. The third title may not sometimes appear.
So, make the first of these three headings the best results.
You can also display a portion of the URL by adding a presentation path. Finally, you can add two descriptions to your ad. Keep in mind that the second description does not always appear.

(Photo: Google AdWords)
Be sure to review any ads on Google before you run them. When reviewing your ads, pay attention to keywords and proofread the typos to make sure that all content is as expected.

Before your ad goes live, check your set daily spend amount repeatedly to make sure everything works.
Finally, enter your payment information when your ad is ready to go live. After confirming the payment information, your ad
will be visible to the target audience.
Understand and improve your quality score
After you launch your campaign on Google, you should start monitoring it. Check your quality score and take steps to make sure it improves. The higher the score indicates the higher the correlation between keywords and PPC ads.
Google also uses quality ratings to determine the cost per click (CPC).
Once your Google campaign is running, track the performance of each keyword. Find keywords with lower scores to see if they can be more relevant. If you can't find a way to optimize them, it's a good idea to delete and try new keywords.
A good PPC advertising campaign on Google can generate significant revenue for your company.
All you need to do is open your Google account to determine your campaign goals and types. Complete the setup process to specify where, language, and other parameters are used by the target audience.
Then determine the budget, select your ad extensions, and select the right keywords. If you're running a campaign to get potential customers or attract clicks, it's recommended that you prepare your landing page in advance.
Hugo Network is committed to providing quality dry goods to sellers
Sweep code attention

Add a star, look at the text every day

▼
---