How does Google ads show buyerreviews and increase click-through rates?
Write in front: This is my own public virgin work, the main purpose is to start recording their own in these years some of the cross-border e-commerce experience, when the diary. Originally wanted to write in a personal blog, but too busy, the blog from last year said built, until now has not started
, helpless can only open the public number more convenient, but also convenient to share. In fact, I can write in my own impression notes, tight for their own use. Think of all written, then share the next, if you have the edge to see, it is also good. Well, OJBK's so much, let's get to the point. A few more words: dry goods, dry can not do any more! I'm sure I'll tell you, even if you're outside the training facility called Multi-Ox X, tens of thousands of pieces of training, no one told you to do this! Either he doesn't understand, or he doesn't want to tell you, it's that simple! Well, officially get to the point:
When we use Google Ads to promote our site, there's a feature that's very important and very effective in increasing conversion rates. This function is: add in the additional informationShow guests' comments.
How do comments appear?

For example, when I entered the keyword shoes on google.com, if your ad adds "Seller Rating Information" to your ad, the guest's comments will appear below the search results, which look like this: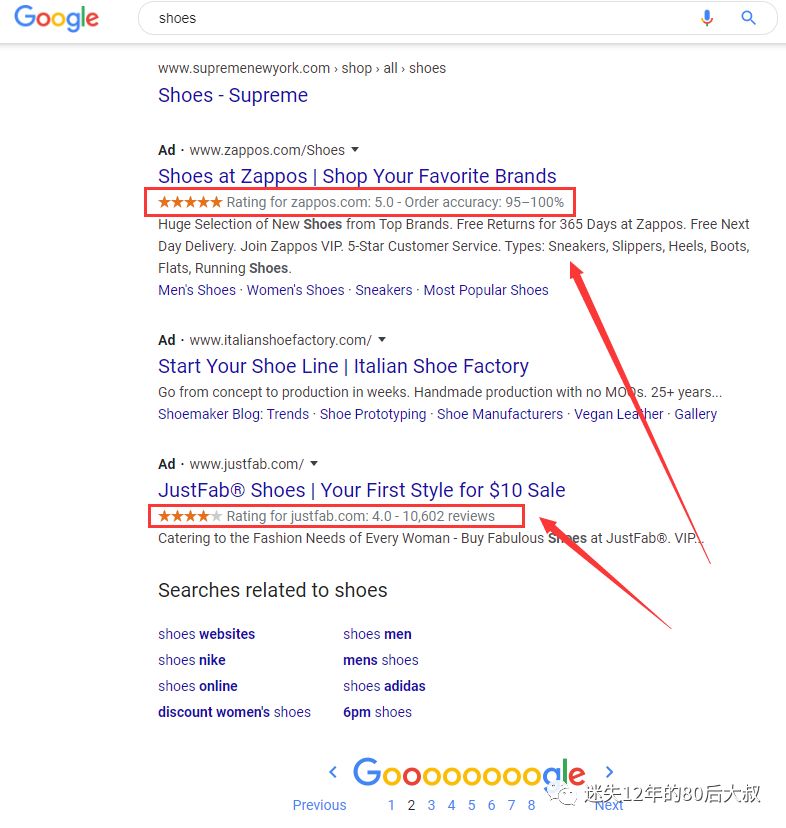 Think about it, do guests prefer to click on ads with comments, or do they don't have comments on ads? Obviously, guests follow the likes of clicking on search results with comments. Additional seller scoring information is a big weapon to improve click-through rate, conversion rate.
Introduction to ad attached seller rating information
Seller ratings are automated extensions that allow users to see which advertisers are well received. Seller ratings are displayed below text ads to help users find businesses that provide quality services. Seller ratings can help advertisers improve their ad performance and get more high-quality prospects.
Preparations
Seller ratings are also displayed on shopping ads. Keep in mind that even if you're not a Google Shopping Advertiser, or don't have a Google Merchant Center account, your ads can display additional seller ratings on the search network.
How it works
The seller ratings collected by Google come from an authoritative source that specializes in pooling merchant reviews. These ratings primarily reflect the overall consumer experience of merchants in each country.
You don't need to pay for seller ratings. When people click on an ad with an extension, you only pay for the ad click as usual. If you don't want seller ratings to appear with your ads, follow the steps in the Remove Add-On article.
Exhibition Conditions
Seller ratings appear with search network campaigns and are only available in countries that meet one of the following criteria:
Google has received/collected 100 reviews from different users for that country in the last 12 months in the Google Customer Reviews program or on our third-party review partner sites
Google and/or its partners have completed a survey of your site;
Google has completed an assessment of your site through the Google Consumer Survey.
In addition, the following conditions must be met:
Average rating or composite rating of text ads is three-star or higher
Currently, Google Shopping can show seller ratings if the average rating is less than half a star
The visible URL domain of the ad must match the domain where we rate it
Reviews from users in a specific country only affect the business score in that country.
Google may not display seller ratings when the underlying feedback is not related to the items/services advertised in a particular ad.
How to see if there is a seller rating
To find out if you have a seller rating in a particular country, please change the following URL to replace your home page with your home page: https://www.google.com/shopping/account/lookup?q?youweb
If your site reaches the minimum seller rating threshold, you can view information about your store and seller ratings. With the Country Selector, you can view this information by country. You can use the drop-down menu to see your seller ratings in different countries.
Precautions
If we don't have your store information, or if your store doesn't meet the minimum seller rating threshold, your home page won't be able to load the Seller Rating page. In addition, issues such as invalid URL values or incorrect home page pages may also cause seller scoring pages to fail to load.
Associating a seller's rating with a domain doesn't necessarily mean that the seller rating will appear with the ad, because the seller rating on the ad depends on the auction and other factors.
Scoring source
Google does not modify existing ratings. To provide consistent ratings, Google recalculates ratings and filters out ratings that Google deems unreliable or problematic. Google Seller ratings are based on reviews from a number of sources, including:
Google Customer Reviews, a free program that collects post-shopping reviews on behalf of merchants.
A summary of performance metrics from a Shopping Survey initiated by Google. Some qualifiers may derive from such shopping studies.
Ratings provided by Google Consumer Surveys, a market research platform used to collect data on specific domain names and merchants.
A shopping review of a store domain name that includes reviews from several independent sources below.
So what independent reviews can Google collect?The focus is coming, please collect the following websites, these sites comments Google Pass can collect! (The average person I won't tell you):
Ausgezeichnet.org
Bazaarvoice
Bizrate Insights
Ekomi
Real reviews
E-Komerco
Feedaty
Feedback Company
Feefo
Hardware.info
Heureka.cz
KiyOh
Klantenvertellen
kuchikomiking.jp
osaifu.com
Poulpeo
PowerReviews
ProductReview.com.au
Reputation.com
ResellerRatings
Reviews.io
Reevoo
Shopper Approved
ShopVote.de
ShopAuskunft
Sitejabber
Trusted Shops
Trustpilot
Verified Reviews
Yopi.de
Yotpo
So how do I comment? (Focus)

After my stand-alone station is built, I am not in a hurry to push the ads immediately, first I will be in any of the above sites to register my stand-alone station, such as https://www.trustpilot.com/, and then? And then you get it. Oh, yes? Don't tell me you don't understand yet! All right, brush, brush the comments, the more the better!
Many students keep asking me, why my Google advertising quality is so poor, no single, low click-through rate, low click-through rate of each click cost will naturally be high, money banging on the fire, that heartache ah! No way, you have more money. The most basic additional seller scoring information you don't add! So don't worry, before you back ads, don't worry, first of all, the site to do a good job, of course, improve the click-through rate of advertising, conversion rate, add this Google additional seller scoring information is only one of the points. There are many more ways to do it.
Mom, a look at the time 19:10, 6 o'clock off to now, spent more than an hour to write this! Or one in one go!
Above!

---