How to get Google Ads Google Ads Ad Certification - How do I get my Google Ad Certificate? (Full attack in 2020)
If you're doing online marketing and want to learn about Google's paid traffic channels, where to start? And afraid of the training outside is mixed?
Don't be afraid, I'm going to tell you today,Google Ads(Formerly known as Google AdwordsThe method of obtaining the advertising certification certificate.
In the process, you'll learn the basics of advertising provided by Google, including search ads, shopping ads, display ads, and more.
And it's all free!
Like I did it myself more than a year ago. Certificate has a deadline, expired need to re-test, but because the content is more basic, I will not go to re-test, the significance is not great. But if you're new, it's worth the time to brush it.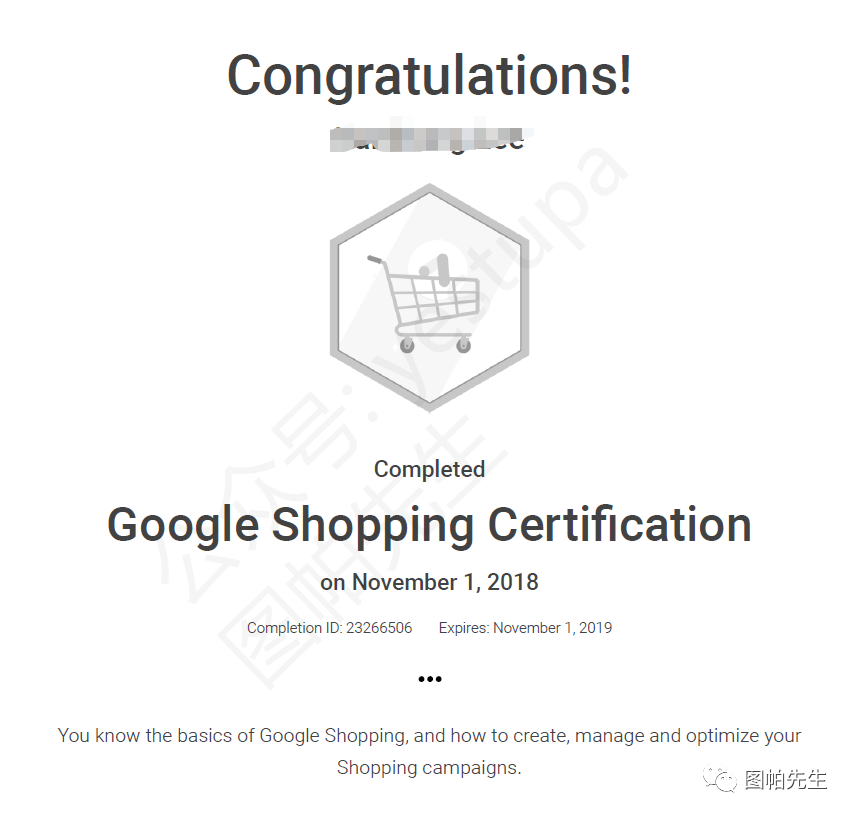 What's the use of Google Ads certification?


Some companies are looking for advertising optimizers who need advertising certificates, so if you have one of these certificates, you may have some advantages when looking for a job, your resume will add color a little, there is no.
If you are HR, do not know what the advertising optimizer post requirements, you can also let the candidate to provide the next advertising certificate, as a reference to ta ability.
2. Learn the basics of Google Advertising for free
Prove your knowledge of Google Ads by getting a Google Ads certification.
And it's free, it's the official knowledge point, if there's time to really go to test a certificate. If you haven't learned Google advertising, you can also take the opportunity to understand the basics.
Most importantly, I think it's great that his questions are embedded in a lot of potential scenarios in advertising, allowing you to choose how to handle the situation based on knowledge. It's not a question of what it means to just test what it means.
Where can I get Google Ads Google Ads ad certification?


ToGoogle Advertising Academy。 (Scientific Internet access required)
https://skillshop.exceedlms.com/student/catalog
Click on the Start now Start Now button to start the entire process.
After you sign in to your gmail, you'll go to Include All themes Next page, where you can see the following topics:
Android Academy

Google Ads

Google Analytics

Google Marketing Platform

Google My Merchants

YouTube

But what we're talking about now isGoogle Ads Google Ads, so click the name (of course, all the lessons in it are available).
Now, this page lists seven different types of authentication related to different types of Google Ads, and whatever you're most interested in, you can explore it:

Digital sales

Google Ads Showcase

Google Ads Mobile

Google Ads Search

Google Ads Video

Shopping ads
Usually you have to finish the course before you can go to the exam. If you are already an experienced optimizer, you can skip directly to the exam chapter.
Digital Marketing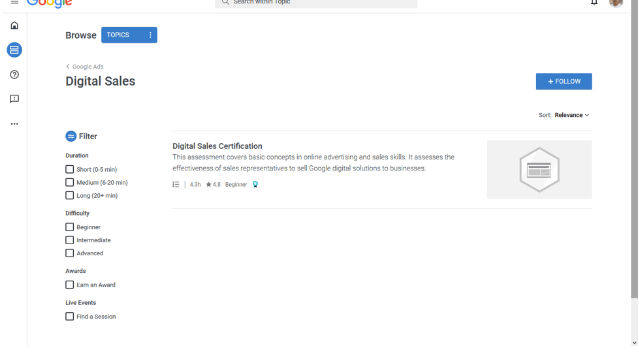 Learn sales skills to better prepare yourself.

Google Digital SalesThe purpose of the assessment is to test an individual's knowledge of digital sales skills.
Google Ads Display Ads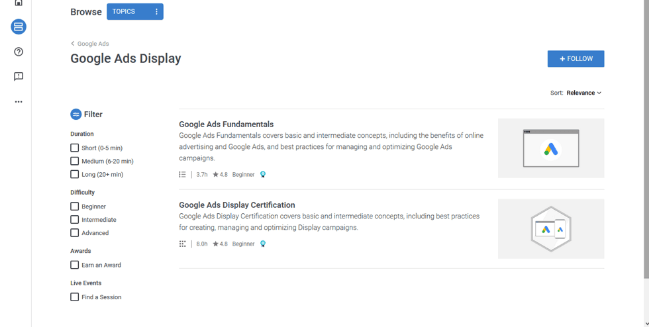 LearnGoogle Ads Display Ad Foundation,to gain sufficient knowledge and to try its maximum value through reliable practice.
You can learn from basic concepts, practices, and managing and optimizing Your Google Ads campaignsBasics。
Google Ads Display Ad CertificationCreate and manage Google Ads display campaigns with the most accurate knowledge.
Visual advertising is more attractive and interesting, which can lead to more sales of brands, ads, and businesses.
Google Ads Mobile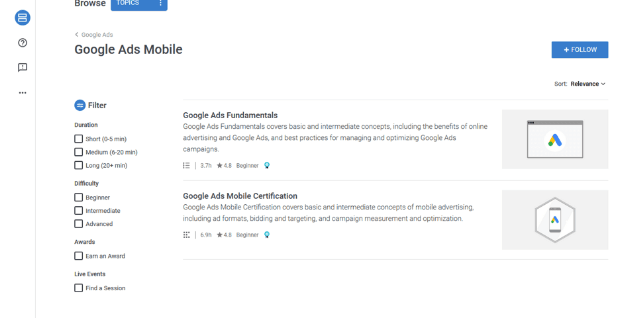 For mobile devices, theGoogle Ads MobileThe individual certifications provide you with the best practice knowledge.
Google Ads FundamentalCovers the basics of marketing concepts that are best suited for Google Ads campaigns that can successfully run your campaigns.
The second form of authentication is calledGoogle Ads MobileCertification gives you the tips and tricks you can do to get the best results for your mobile ad audience, giving your campaigna a stronger core.
Google Ads Search Ads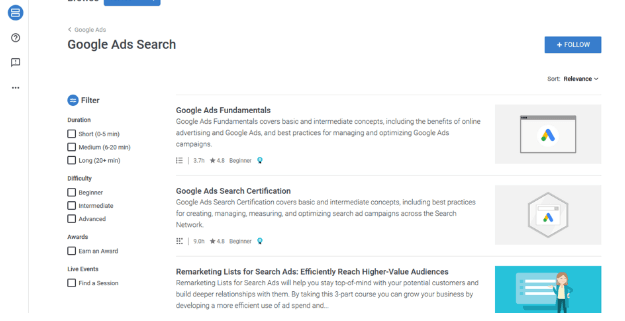 PassGoogle Ads SearchCertification to conquer Google Search, learn the foundation of search advertising and delivery tips.
Google Ads FundamentalCovers essential information about Google Ads search.
Google Ads Search CertificationProvides you with a workable knowledge of the techniques you can use to create qualified Google Ads campaigns.
Google Ads Video Ads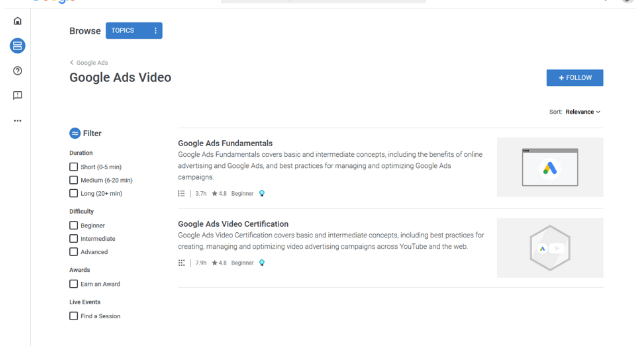 This is mainly used to make video ads.
Google Ads FundamentalYou can provide you with a wealth of relevant but best information to create video campaigns that go beyond limits to attract more attention.
Google Ads Video CertificationOutline the details of the course and develop market space with practical techniques available on the market to optimize your video ads by developing and optimizing your video campaigns that will compete with your competitors on YouTube or the Web.
Shopping Ad Shopping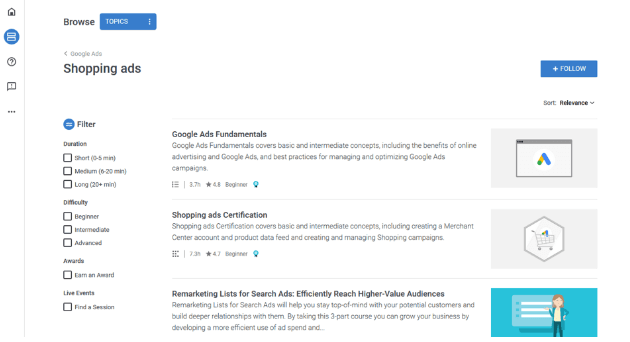 Shopping adsIt's the best campaign for e-commerce, so the knowledge is important.
Google Ads BasicsSet up your Google Ads campaign to give you everything you need to create your shopping ad.
Shopping ad certificationCovers work concepts related to shopping to create, manage and optimize your shopping campaigns.
You may also need to know something about ad feeds.

Languages supported by Google Ads Ad Certification
Don't worry if you don't have a good English, because you can choose Chinese version to take the Google Ads course. But if you can speak English, why not take the opportunity to practice English by the way?
Deadline for Google Ads Ad Certification
Well, the Google Ads certification expires after a year. When it expires, you need to retake the exam.
But in fact, if you have passed once, there is no need to test again, because are the basic knowledge, learned later, spend more time to practice in the better.
How long does it take to complete my Google Adwords certification?
Typically, it takes about 90 minutes to complete the Google Adwords Basic course, and the answer rate is at least 80%.
Is Google Ads certification paid or free?
The exam can be registered for free, logged in with Gmail authorization, and after passing the exam, you can get google Ads certification for free.
Is Google Ads certified difficult?
Not at all, and the problem inside stop interesting, and there is practical reference value. It's easy to pass the Google Ads exam because it's all the basics.


Declare a point, this Google advertising certificate is more basic, if you have a certain delivery experience, you can ignore, but when there is time, advice or pass, test their basic knowledge.
In addition, the company recruitment most will not look at the certificate, so do not expect to really deceive the interviewer, after all, you will not put, experienced people from your talk to hear a will know. The beginning is just "possible". I hope I didn't mislead you.
BTW, everyone's needs I have heard oh, just too busy article but come, I have the record - I hope you give me some time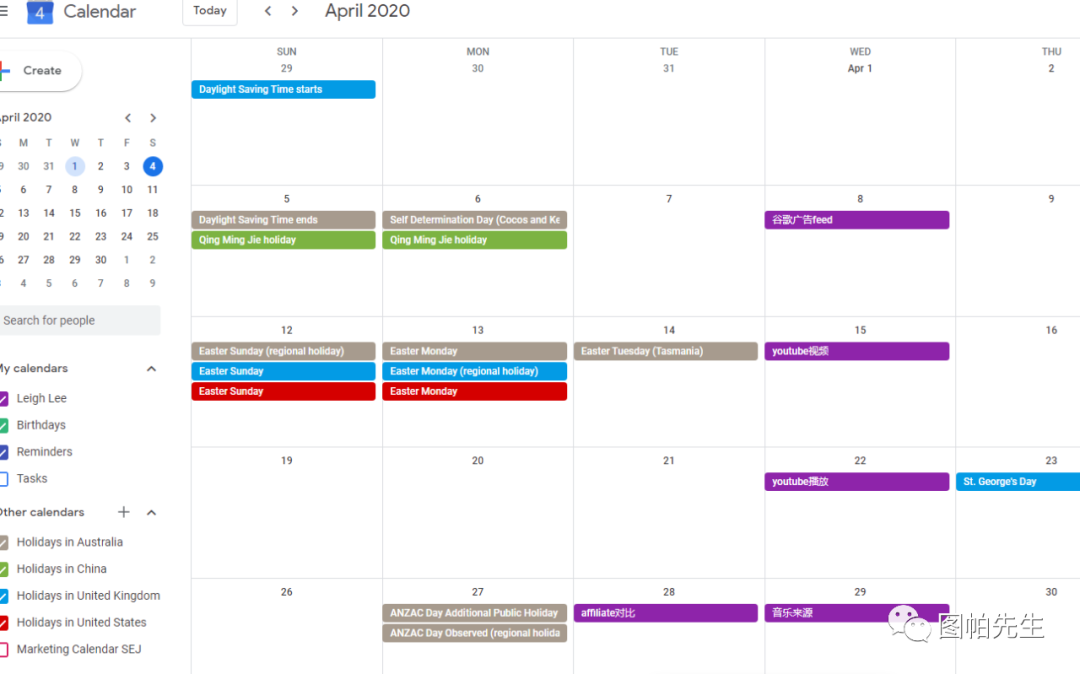 Peace Out!
Sweep the code to follow me.
TupaMr:
前Skyscanner SEO team leader,
He is currently the head of overseas promotion of start-ups.
Public ID: yestupa
Sweep ingres concern, weekly access to foreign SEM, SEO dry goods

www.yestupa.com
Some one to watch and go again.(≥)?n
 For reprinting, please contact yestupasemseo
---