Must-See Dry Goods Google's advertising campaign (including PDF) during the B2C-B2B outbreak
In the extraordinary period, how to tailor the overall marketing program according to local conditions?Google forB2C and B2B IndustrySorted out a detailed advertising marketing bag, suggested to collect it carefully.

Here's a summary of some:
(Full PDF, please scan the QR code at the end of the text to get it).
Overview of B2C customer status
A flowchart helps you control the strategic direction and steer smoothly in the currents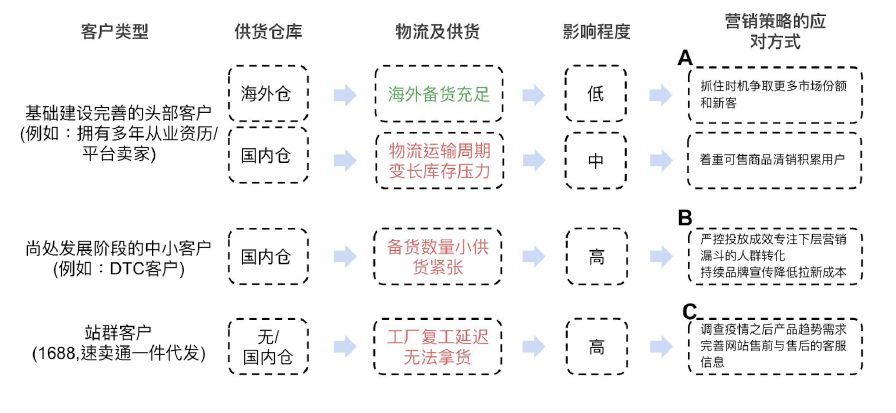 An action guide to help you adjust your account delivery thinking to ensure that your driving is steady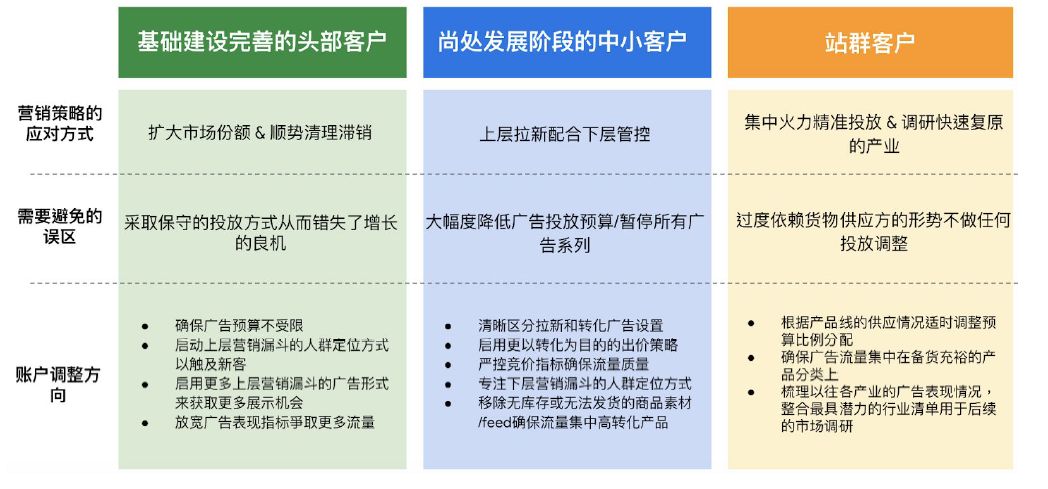 A. Customers with longer e-commerce qualifications and mature cargo flow infrastructure
We should seize the opportunity to gain more market share and focus on
Search for campaigns
Add more category words, product words, and use the broader audience targeting categories in Affinity and In-market to reachMore new customers
ROI to meet the requirements of the campaign timely increase the budget, expand revenue
Relax tCPA or tROAS requirements, not use smart bidding way of the campaign timely into smart bid, get more conversions
Customers who do not apply DSAs may consider enabling DSA for more presentation opportunities
Get additional order growth with optiscore optimization score Recommended series settings in "Recommendations"
Show campaigns
Replace currently well-stocked product materials and adjust the floor pages to use the broader audience in Affinity and In-market Targeting category, reaching more new customers
ROI to meet the requirements of the campaign timely increase the budget, expand revenue
Relax tCPA requirements, not use smart bidding mode of the campaign in time to smart bid, more conversions
Shopping campaigns
As much as possible to smart shopping ads, and use Maxmize conversion value to bid, or lower tROAS requirements to getMore traffic
For those who already have smart shopping ads, the campaigns are segmented according to ROI performance: hot sales (high ROI), new products, other
Video campaigns
The outbreak period is exactly the opportunity for mature brands to take advantage of their advantages and strive for more volume. Continuously run video ads during this period, increasingExposure, do not disappear from the eyes and hearts of consumers.
Customers with ample brand budget: Trueview plug-in ads, efficient exposure, with CTA diversion to the official website, expansionRemarketing list
Customers with limited brand budget: Bumper 6 seconds can not skip video ads, for key users, efficient promotionBrand awareness (e.g. with remarketing audiences, repeating prompts for brands, enhancing brand recall and consideration)
Customer pursuit of product efficiency: YouTube call to action ads, through video exposure at the same time directly to obtain conversion
Customers with delayed release of new products can use video ads to warm up and collect consumer information
YouTube Form Ads (beta) to collect information intended to users for subsequent marketing and communication
You may also consider opening up pre-sale, using YouTube action call ads to guide customers to leave information on the official website and book in advance
Video production capacity is limited, Google to help you!
Services and tools to quickly create ads with existing video footage (please contact Google Account Manager)
Team: Google gTech video editing service, arranging the editing artist to complete based on your requirements and footage
Self-service video generation tools:
Video Builder: Use pictures to generate video spawning for a wide range of e-commerce customers
Bumper Machine: Use long video to generate different versions of the 6-second short video, with the Bumper format castCan quickly enhance brand impression within a limited budget!
B. Small and medium-sized e-commerce customers/start-up DTC sellers still in the boom
Production logistics are limited, but should not be due to waste food to give up the accumulation, focusing on reducing the new cost, strict control of the effectiveness of the delivery
Search for campaigns
Distinguish pull new traffic (focus on cost reduction) and effect traffic (focus on improving ROI)Pull new traffic (competition words, generic words, etc.):
Use a more transformative bid strategy (i.e. set a lower tCPA) to capture higher-value traffic to reduce pull-up costs and maintainStable ROI
More frequent search terms check to improve the quality of regular campaign traffic, you can pause some of the broad range of category keywords, centralizedTraffic and budget sedit categories and product terms for more accurate segments
The competition word series uses the tCPA bid strategy, the competition word for the less competitive brand or product series can be set lower tCPA, lowerLow pull new costs; competition word for major competitors' series focuses on RLSA launch, setting lower funnel crowd as 'target targeting Target'
Refine DSA's dynamic ads targeting, centralizing target supply relatively adequate category or part of the pageEffect flow (core product words, brand words, etc.):
With a more ROI-oriented bid strategy (i.e. set higher than ever before) to capture the higher conversion value of crowd traffic with precision,High return on investment
In case of limited calculation, focus on RLSA delivery, set the crowd as "target Target", accurately drainto the lower funnel crowd,and timely tilt budget to more effective campaign
Show campaigns
Focus on performance traffic (increase conversion volume and conversion revenue)
Remarketing campaign Always on: Stick to lower funnel's remarketing crowd to ensure ROI. Still usingthe campaign of the eCPC bid method is proposed to adjust the tCPA bid to ensure that the campaign is designed to bring more conversions while controlling costs
Check campaign footage, remove items that are out of stock or cannot be shipped, and use vendors that are still in stock and can shipMaterial, to avoid users click on the material into the site after the no-stock and give up conversion
Shopping campaigns
Check feeds to remove items that are out of stock or unshippable in a timely manner, and retain and focus on good(ROI high) campaigns and productionsProduct group to ensure that traffic is concentrated on high-conversion products, reducing the risk of default or cancellation of orders due to no-stock
Improve tROAS targets, accurately capture higher conversion value crowd traffic, achieve a higher return on investment
The standard shopping ad PLA, which still uses the eCPC bid method, needs to be converted to tROAS, so that all campaign targets are focused on bringing moreHigh conversion and conversion value
Video campaigns
For customers who have accumulated and tried some what they have accumulated and tried on video ads, it is not recommended to suspend all video ads, according to the actualThe business situation is adjusted to make the cost of video access more controllable.
Format adjustment: Suspend branded video ads and use YouTube action call ads to achieve more direct results
Temporarily narrow your audience to the most likely audience (remarketing, targeting targetaudiences by customizing your intended audience)
(If there is an accumulation of prior conversions) can temporarily adjust the form of the bid to the tCPA, and appropriately lower the tCPA bid
Adjust the location of video advertising areas according to actual stocking and logistics, focus firepower, and not waste every minute of the budget
Budget-constrained customers: Use effect planners to reallocate budgets for performance improvements
C. Station customers (one-piece)
Production logistics rely on third-party resources lead to a large accumulation of orders, can only gradually digest the order situation; It's also time to investigate the rapid recovery
Industry is ready for long-term investment
Domestic logistics and related e-commerce platform resumption of work: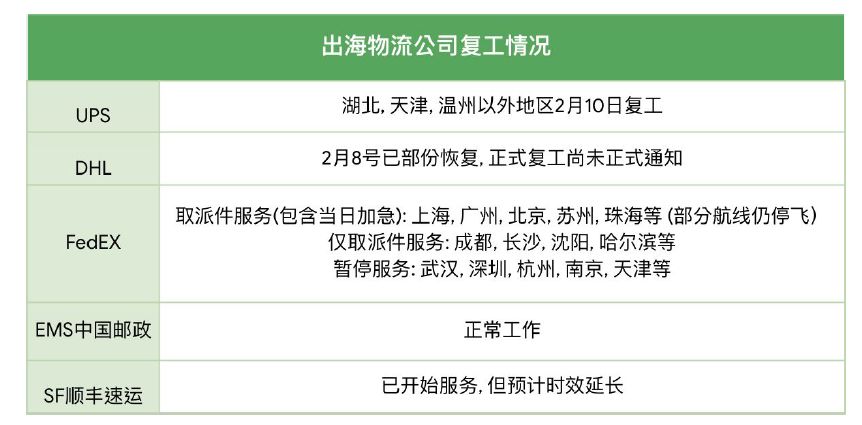 Group customers (for sellers with a small inventory hoarding)
Affected by the outbreak, in addition to preparing ahead of the recovery of the outbreak after the product line paving, but also to ensure that advertising traffic is concentrated in the stockofed products
Search for campaigns
The old products/inventory use a large number of wide range of long tail product syllables and focus on RLSA delivery, the crowd set as "target Target" to ensure high precisionDrainage boosts conversion rate
Shopping campaigns (2 pick 1 centralized budget)
Only stock-only product feeds are delivered, with PLA and Maximun conversion bidding, ensuring that traffic is concentrated in theClean up the product and maximize the conversion
Only stock product feed, use smart shopping ads to relax the tROAS settings, to ensure that the maximum exposure of the clear product sto maximize the transformation
B2BOverview of customer status
A flowchart helps you control the strategic direction and steer smoothly in the currents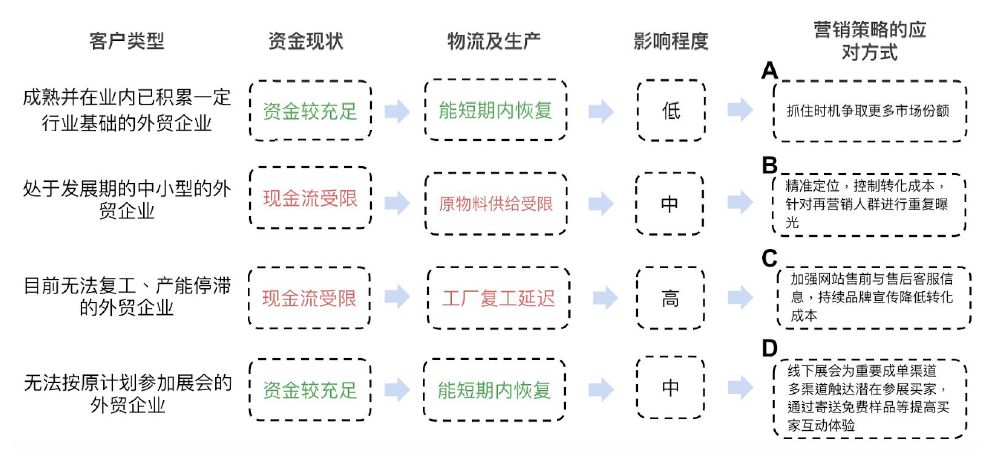 An action guide to help you adjust your account delivery thinking to ensure that your driving is steady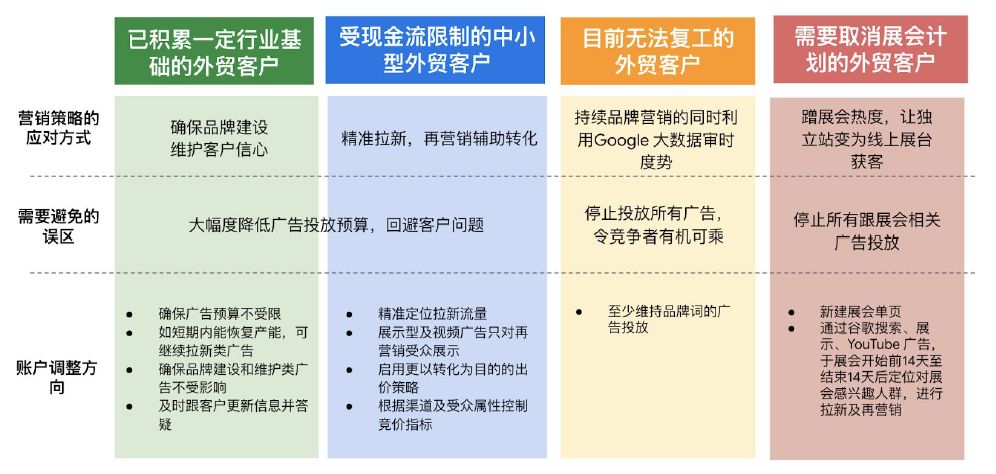 Example of an outbreak update information sheet: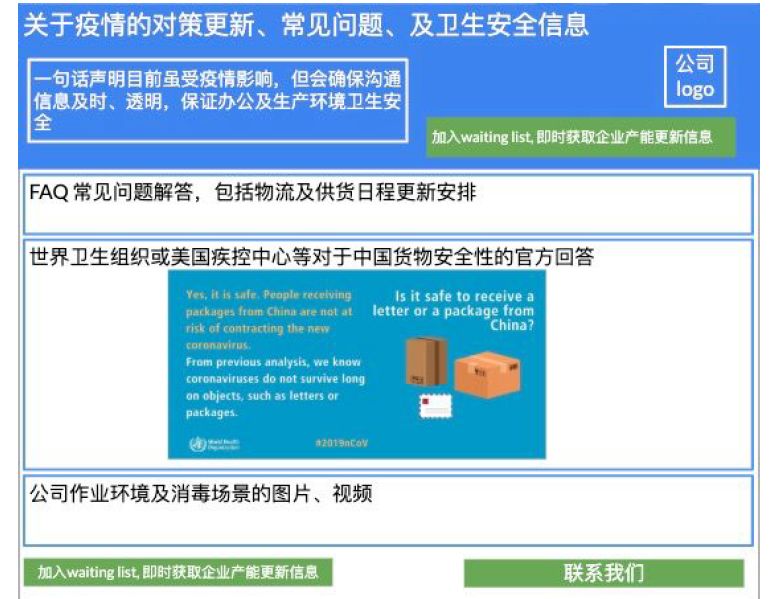 Example of a jump information collection form: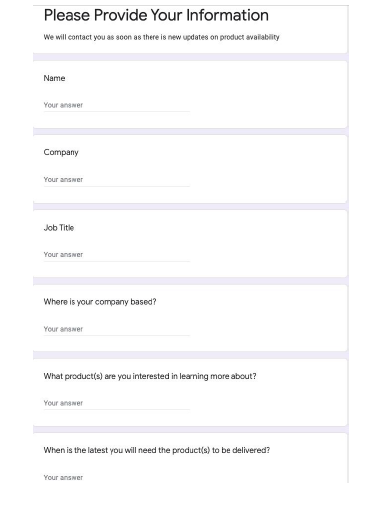 A. Mature and foreign trade customers who have accumulated a certain industry base in the industry
While such customers are also facing difficulties in starting delays and delivering on time, it is difficult for suppliers in other countries toRapid increase in production capacity, as long as the relevant enterprises in the short term to maintain good customer relations, orders do not produce irreversible transfer, once the outbreak of past production recovery, the quarter's order losses can be repaired. Therefore, in the overall marketing at least to ensure that brand building and maintenance advertising is not affected and focus on the use of remarketing timely updates, such as customer concerns about the spread of the epidemic to express confidence, if there is false information to dispel rumors and prevent the spread of related rumors.
B. Small and medium-sized foreign trade clients subject to cash flow constraints
Accurate traffic sources, increase conversion rates while controlling conversion costs, focus on remarketing audience lists of brand repeat exposures, and focus onLaunch of key national markets
Budget and campaign adjustments: If you need to lower your campaign's budget, you'll be able to reduce your campaign's budget by less than 20% on the premise that you'reTargets in the same campaign should be reduced to market, excluding non-key countries;Consider suspending delivery to non-priority countries
Search for campaigns
Brand word campaign (for the old customer): appropriate to move some of the campaign budget with low conversion rate (e.g. competition words) to brand wordsSeries, the use of "maximize conversion" bid strategy, as far as possible to the brand has a certain degree of awareness of potential buyers to attract to the official website
Pan-industry words and big brand competition word campaigns (traffic is large but conversion rate is usually low, so only do remarketing and precision pull new): adoptedRLSA (Search Remarketing) sets audiences on remarketing lists as "targeting" and uses CPA/eCPC slightly higher than branded words
(20%-30% increase), bid with tCPA or eCPC;the audience of the group, and exclude the audience list on the remarketing list, using CPA/eCPC slightly lower than the brand word (down 20%-30%), using tCPA or eCPC bid;
Slightly small flow of medium- and long-tail precision industry words and small brand competition words (precise positioning of high-potential users): for industry words, the use of a wide range ofWith modifiers to achieve a balance of precision and flow, for small-brand competition words, you can use phrase matching and competitive brand and product form, touch the real customer product category of users, use tCPA/eCPC bid, and make reasonable adjustments to the conversion rate of the campaign
Copy optimization: keep copy up to date to ensure that each ad group has at least 2 larger text ads, 1 responsive text ad, and 3additional information, for different keywords and audience targeting, customized appropriate copy;
Show campaigns
Target people who already know the brand, and repeat exposure
Crowd targeting and bidding: target only the remarketing list of people, use tCPA bids, through brand repetition exposure, hit highIntention potential buyers to divert them to the official website
Material optimization: material sincang may be considered to add enterprises have won awards, certification, user testimony, etc., to increase the credibility of the enterprise brand;display creatives to optimize ad performance and expand reachYouTube campaign
Target remarketing crowds with call-to-action ads or use YouTube to find ads
If you don't have ready-made footage and the corresponding time and budget to shoot a new video: Apply for a video Builder tool whitelist and easily put picturesFootage turns into 15-second dynamic video
Remarketing with YouTube Call for Action Ads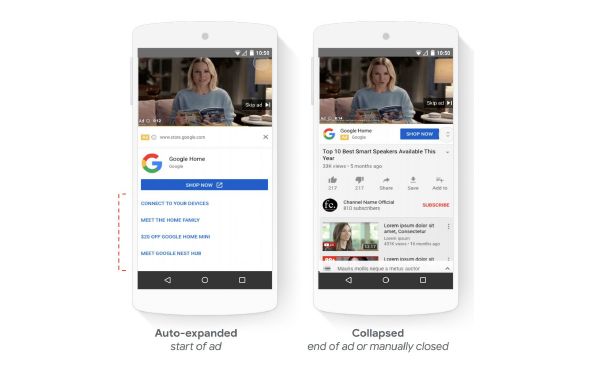 Google alsoCustomers planning to attend domestic and international exhibitions (including Class A and B above) who are unable to attend the exhibition due to the outbreakdetailed recommendations and operational guidelines, as well as detailed remarketing plans:
Use part of the budget originally planned for offline exhibitions for online promotion, through Google's massive platform and user data, so that stand-alone stationsTurned into an online booth and continued to promote it 15 days before the start of the exhibition to 15 days after the show.
Finally, Google analyzes in detail the overall trend of China's 2020 seagoing trip in detail in this guide,And analyzed the potential industry of China's key export areas, I hope you can seize the gap between market supply and demand after the outbreak, adjust the selection and export strategy after the outbreak.
Scan the QR code below for the full versionPDF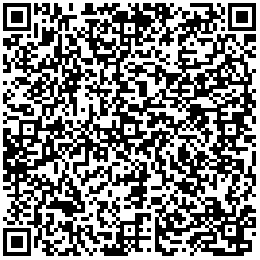 More exciting don't forget to follow papaya move
High-quality traffic, high ROI returns.
Professional platform to go out to sea know more than a little more
Click to read the original text,

Free account opening application
---