Overseas Promotion Guide: How do I create a Google search ad?
The competition to grab Google's search results is fierce. Even an expert SEO SEO can take months or even a year to put one or some of the key words on the first page.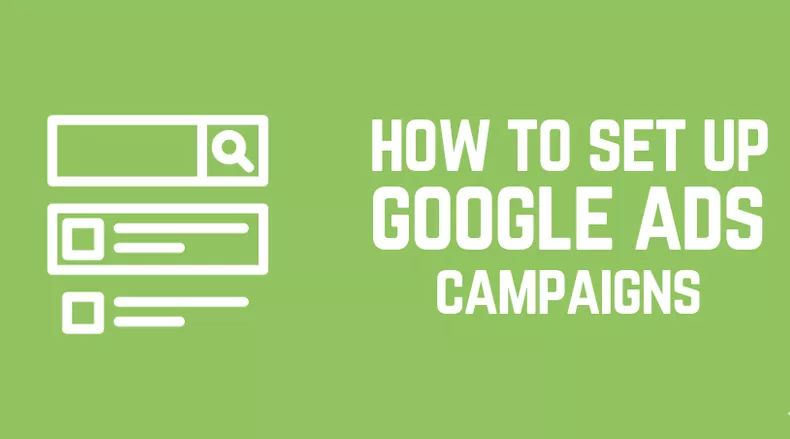 This is where PPC (pay-per-click) advertising is so popular: it's expensive but it's quick to impact. Google search ads are a type of Google ads, companies display products or services on Google's search results page text ads. This type of ad usually appears at the top or bottom of the Google SERPs (Search Engine Results page).
Google ads are a common and effective overseas promotion strategy that companies hope to use to gain information about potential foreign buyers through paid advertising. This article will cover some of the basics of Google ad creation.
Pre-creation preparation
Advertising goals
PPC pay-per-click advertising, if optimized properly, the inquiry effect is remarkable. But before you create an ad account, you have to figure out what your promotion is. You might say, "Of course, improve sales", but online advertising often requires B2B marketers to specificize their goals according to the nature of their business.
The first time you visit your site, there are few customers who place orders, except is a B2C shopping site. Online B2B foreign trade business relies more on establishing and cultivating trust relationships with buyers. As a result, companies that use Google ads often have different marketing goals. For example:
Sales (retail or wholesale websites)
Registered
Software download
Mail subscription
Inquiries
Brand awareness
"While for some companies, marketing metrics are more than one, it is important to note that each ad campaign tends to serve only one goal." In addition to setting promotion goals, there is an important work to be done in the early stages: the production of landing pages.
Landing page
A landing page refers to the page that "logged in" for the first time when a user clicked on your ad. A good landing page is critical to the success of your ad campaign. Carefully designed and optimized landing pages help turn visitors into potential buyers, even partner customers.
When designing a landing page, keep the following in mind:
Focus on one marketing goal:Setting landing pages with multiple targets can be confusing for visitors.
CTAButton:Increase ad conversion rates by designing a prominent, appropriate call-to-action button on your landing page.
Mobile-friendly:As the number of mobile users on the Internet continues to grow, it is important to ensure that landing pages have responsive phone-side capabilities.
Fulfilling your promise:The landing page needs to deliver on any promises you make in your ads. For example, if ad ideas include discounts, make sure the offers are available on the landing page.
In summary, before you create a Google search ad, you must identify your goals and create an efficient landing page.
Create a Google ad
Step 1: Register
Go to Google Advertising (ads.google.com) and sign up for a Google account. Creating a Google account is easy and takes only a few minutes.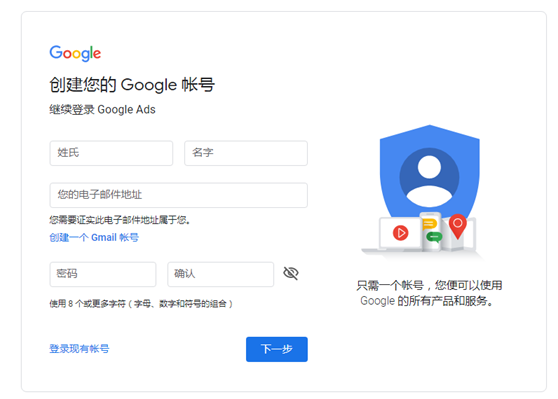 Once you've entered the necessary details, you're ready to start creating your first Google campaign. Here you can choose your ad goals, ad types, set budgets, target audiences, and bids, and write ad ideas.
Step 2: Choose your ad goals and types
After clicking on the new campaign, first select the goal orientation. Target selections include sales, leads, website traffic, product and brand likeness, brand awareness, and coverage, and app promotion. Of course, you can also choose to create campaigns without a goal orientation. For B2B vendors with physical products, the advertising target generally selects potential customers.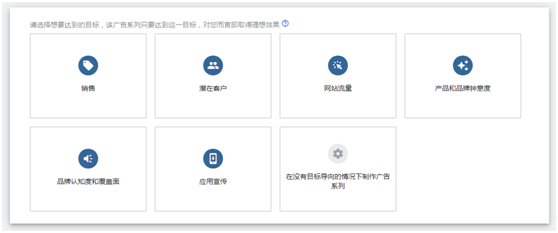 Click to continue. The next step is to identify the type of ad. The choice of which ad type depends on the business type and marketing objectives, please refer to the previous tutorial article: Novice Tutorial: Google Ads Google Ad Type details. For B2B companies that are just starting to create Google ads, it is recommended to use Google Search Ads. Because this ad is displayed at the right time in front of the right users, at this moment these relevant users are using keyword search products, services, etc. related to your business. Display ads are more suitable for brand promotion and remarketing, although CPC cost is very low per click, but the accuracy is not as accurate as search ads.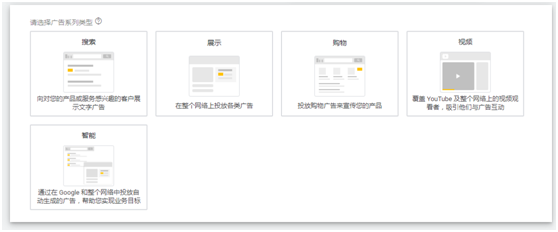 Next, choose a way to achieve your goals. For businesses that want to get more lead information through websites and ads, one of the ways to visit a site is because there are visitors who can convert. Please pay attention here to fill in your company's foreign trade marketing website address.

Step 3: Choose to launch the network
After naming your campaign, the next step is to choose between Google's search network and the display network. The search network displays your ads on google search results pages, and the Display Network will run ads on any site where ads can be displayed. As with the type of ad, we all recommend that B2B companies who try Google ads for the first time choose a search network first.

You can check including Google Search Network Partners, because most advertisers display ads on Google Search Network Partners sites, such as Google Video, Google Image, and more.
Step 4: Targeting and audiences
In this step, identify the geographic location of your target audience. If companies focus on the European and American markets, then this positioning can let your ads only show in Europe and the United States in front of the relevant searchers. Your ads can show people based on geographic locations or places of interest. In addition, if there are certain countries or regions that are not your target market, the exclusion function can exclude the region from the positioning.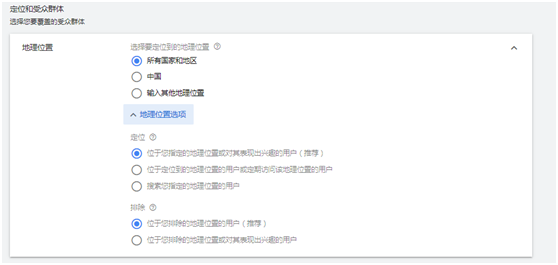 Then, select the language used by the target user. If we only have one English website, we can choose English. Later, you can create a localized ad for sites in other languages. Then there is the audience, just started to create Google keyword search ads, it is recommended not to add any specific audience. For the audience this piece, we will later in other articles will elaborate.

Step 5: Set a budget
Setting a budget will ensure that the campaign does not exceed the spending limit.

The best way to set up your budget is to first understand your site's conversion rate. If you've just created an ad, you can use the average to calculate it. According to WordStream, the average conversion rate for ads is 2.35 percent. This means that only 2.35 per cent of visitors take action after clicking on the ad. Take a look at the cost of each ad click in your industry and figure out how much you are willing to spend on each conversion (i.e. CPA). With this data, you can probably calculate your own daily budget.
Of course, you can also fill in a company's acceptable budget (e.g. ¥100) and adjust it to the performance of your ads.
Once you've defined your budget, move on to the next step: select a bid strategy.
Step 6: Bid Strategy
When you're just starting to create a campaign, in order to better control the cost-per-click, it's recommended to choose a manual bidding strategy: per-click cost manual bid, and then click to pay with smart clicks to get more conversions. After all, automating strategies isn't ideal when your campaign doesn't have a lot of conversion data. If you're just starting to start google advertising, you might want to use automatic bidding until you're familiar with Google's advertising system. However, manual bidding is often more cost-effective, although it takes more time and effort. There are several ways to automatically bid strategies, depending on the situation.

Once you've selected your bid strategy, you can create ad extensions. If you show additional information in your ad, click-through rates are expected to improve.
Step 7: Ad bid
The next step is to create an ad group and enter the default bid for the ad group.
Bid bid refers to the amount advertisers are willing to pay for each ad click. If you and your competitors bid for the same keywords and are willing to pay more for each click, your ad ranking may be higher than theirs. But bidding isn't the only factor that affects ranking, and other factors that determine ad ranking include ad and landing page quality, minimum ad rating requirements, user search stories, ad extensions, and more.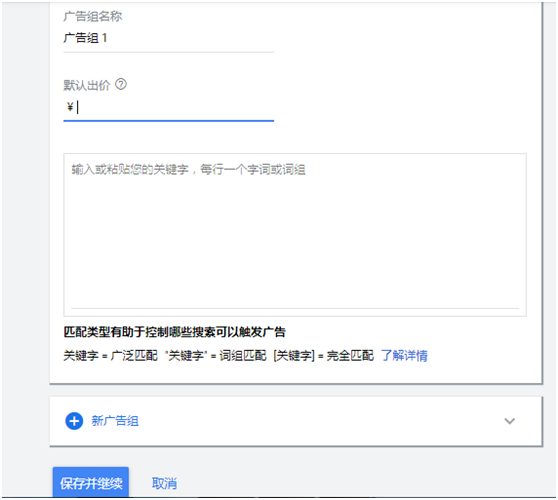 Step 8: Identify keywords
Then enter and paste the keywords.
A keyword is a search term or phrase that a user enters into a Google search box when they search. Each ad group generally recommends using less than 20 keywords to trigger an ad to appear on sERP (search results page). Of course, you can adjust these keywords in the future.
We recommend choosing some keywords that will make sure they're going to work, rather than picking out 20 keywords that you think you might be relevant to. In addition, pay attention to the keyword itself search volume. Some keyword searches are amazing, but they are highly competitive and may not get better conversion results.
Searching for high-volume keywords is usually also high lying. Choosing more keywords or searching for more keywords can quickly consume your budget. It is recommended to start by selecting a few keywords with moderate search volume to control costs.
Step 9: Write an ad idea
Advertising creativity can be said to be the most critical and testing of the English foundation of advertising. How to make the slogan stand out really takes a lot of effort. A good advertising copy should clearly communicate how the company and its products meet customer needs, and convince users to click on the ad and visit the site.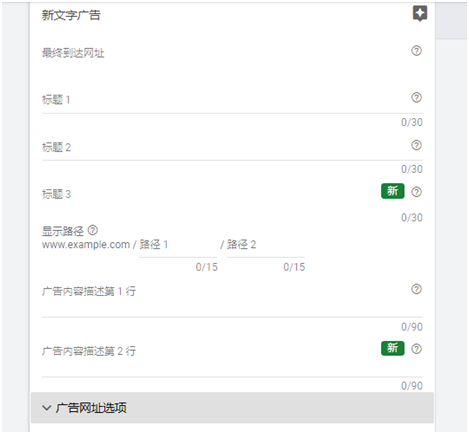 Here are some tips:
Brief:Each ad language input box (whether it's the title or the description of the ad content) is limited in number of words, so your information must be at the fore.
Titles are critical:When an ad appears in front of a searcher, the first thing that comes to mind is the ad title. The title must be persuasive and attractive to click on the ad.
Call of Action button:The CTA button clearly and clearly tells the user what you want them to do.
Title:Google Ads allows an ad idea to contain three titles, each limited to 30 characters. So the title must be concise and eye-catching. In addition, it is recommended that at least one selected keyword be included in the title.
Description of the ad content:There are two lines of descriptions in total. Limit each line to 80 characters. Clearly communicate information to users through ad descriptions. Try to include offers or discounts in your description to make sure that people click on ads. Also, check spelling and grammar errors over and over again.
Once the ad language is complete, the campaign is basically created and pulled. You can go to your campaign to make keyword bid adjustments, or you can temporarily use your ad group's default bid.
Summarize
Google advertising is a powerful tool when it comes to winning for small and medium-sized businesses. However, if you're not optimized, you might spend a lot of money on advertising on the platform, but it's hard to get the ideal return on investment.
In addition to the basic advertising creation knowledge covered by this article, the key to revenue generation is to continuously test and optimize advertising to maximize its advertising benefits.
---