Please put it away! Senior optimist never-unreported Google ad serving cheats
Spring warm flowers are gradually approaching the day, the crucial resumption of work "epidemic war" has also begun, but for foreign trade enterprises, anxiety has not eased. How to do a good job in today's epidemic under the new normal marketing, is a cautious move of foreign trade enterprises in various industries.
So in the extraordinary period, how to tailor the overall marketing program according to local conditions? How do I quickly grab online resources with Google? Here to give you a few suggestions for foreign trade colleagues,I hope you can get effective solutions from today's article.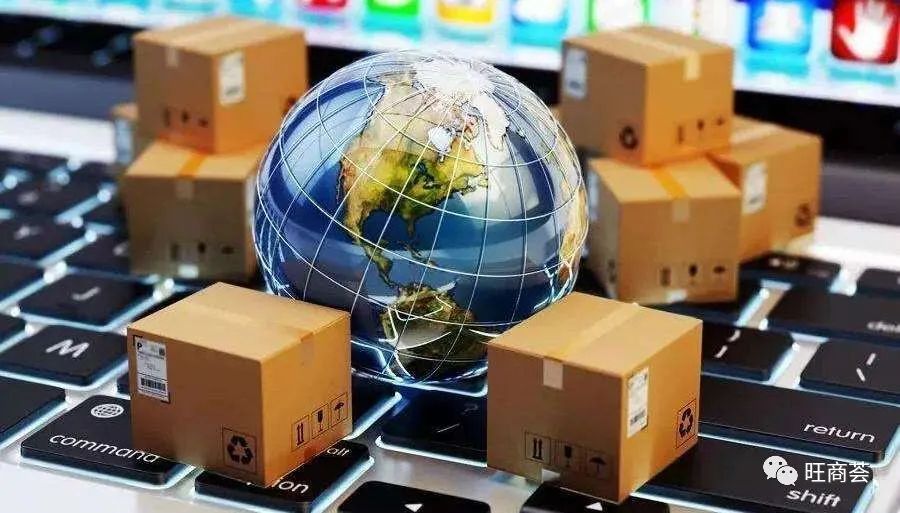 First, how to choose the right marketing plan for their own
01 Mature and has accumulated a certain industry foundation in the industry of enterprises:
Although faced with delays and on-time delivery difficulties, orders will not shift irreversibly as long as companies maintain customer relationships as long as they can quickly increase capacity in the short term.
Therefore, in overall marketing at least ensure that brand building and maintenance advertising is not affected, and with the help ofRemarketingKeep the buyer updated.
:: Google Remarketing Features:Find people who have visited your site, and then push the information to those people to tap into the needs of those people to get a deal.
02 Small and medium-sized foreign trade enterprises subject to cash flow constraints:
Under the premise of improving the accuracy of traffic delivery and controlling the cost of conversion,Adjust the campaign, use remarketing to assist conversion, repeated exposure brand, focus on key national markets.
03 Companies that are currently unable to resume work and have stagnant production capacity:
✔ work with local government agencies and industry associations to establish a sound foreign trade risk management mechanism, strengthen internal compliance construction, and ensure the orderly rework of workers from non-epidemic areas.
✔ Use digital means, such as remarketing and active communication with foreign sellers, so that the other side to generate confidence, stability of overseas markets.
✔ With Google's big data, such as search trends, take risk alerts, know the size of trade risks in different countries, regions, and industries, and adjust the direction of operations and sales to minimize them.
04 Foreign trade enterprises that need to cancel the exhibition plan:
The original plan for offline exhibition budget for online promotion, through Google's massive platform and user data, so that the "single page landing page" turned into an online booth, one month before the start of the exhibition, to the exhibition end of a month to continue to promote.
Overview of B2B customer status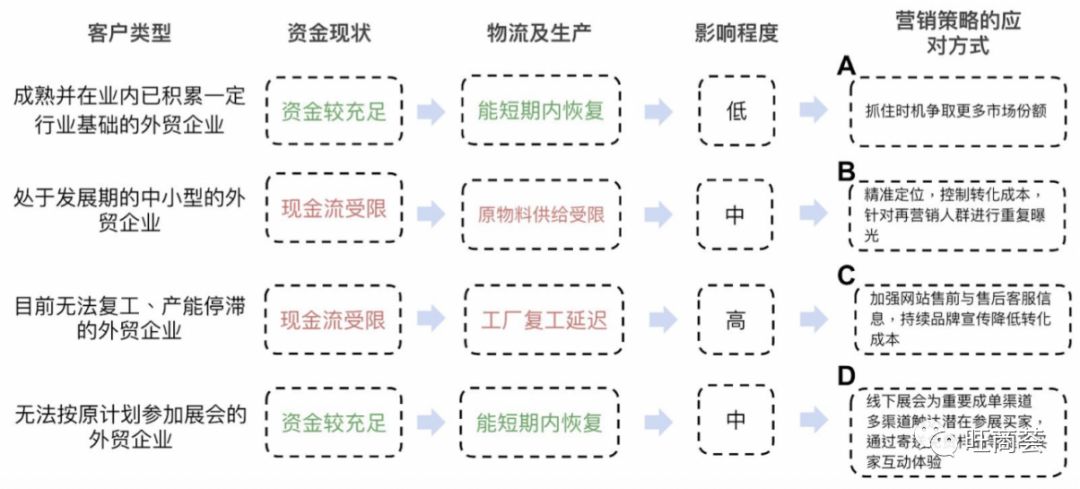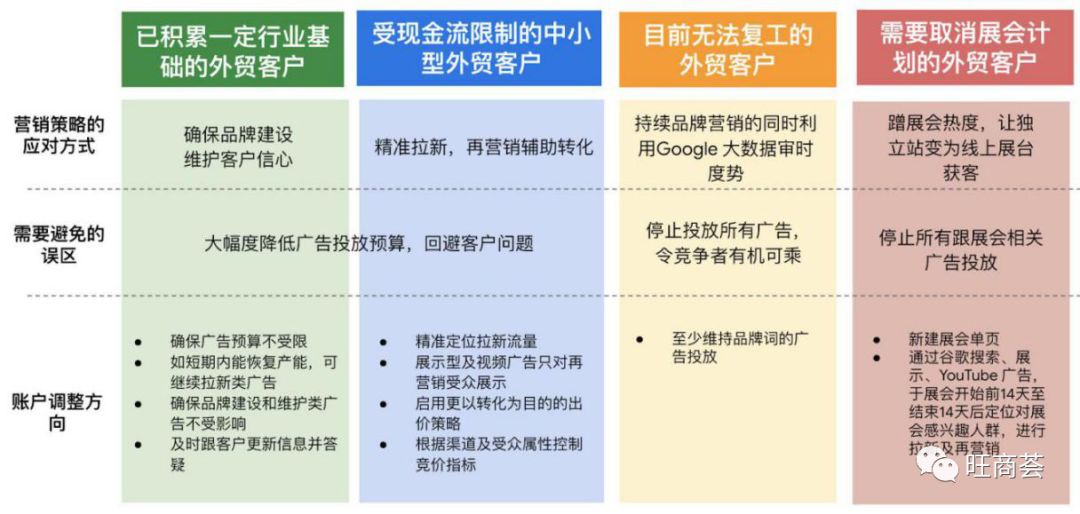 Second, the preparation of Google advertising?
01 About the website
Foreign trade website construction is the basis of Google promotion, enterprise website in content and architecture to work hard, and then according to the user experience data non-stop adjustment optimization, to really run a good website.
In addition, in the extraordinary period, foreign trade enterprise website should also add information about the outbreak, take positive and positive measures to deal with the concerns of overseas buyers, in the crisis to further establish the credibility of enterprises. Such as:
✔ Create a new information update single page for the impact of the outbreak, the most common questions and their answers together (FAQ), including capacity and logistics status quo, the outbreak after the improvement from the order to the time required to ship, the buyer has paid orders can be delivered on schedule, whether the order period can be extended;
✔ Add the U.S. Centers for Disease Control and Prevention's answer to the safety of Chinese goods/who authoritative answers from the World Health Organization;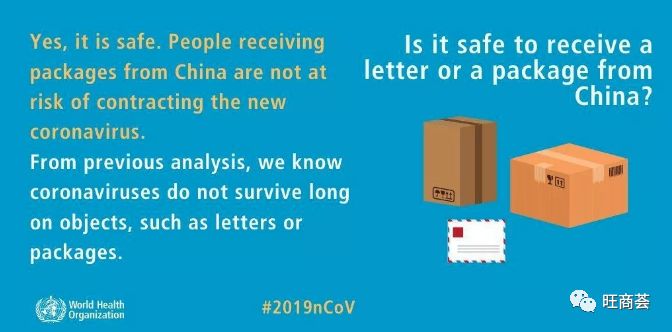 ☝Authoritative answers from the World Health Organization
✔ Add video of the factory work environment and disinfection scene, make the factory floor transparent, so that customers' trust in the enterprise greatly increased.

02 About Products
The product is the most critical part. On the basis of preparing keywords and slogans, first of all, you should have a clear understanding of the product. Including the product's out-of-sea form, product classification, application scenario, sea advantage, customer concerns and so on.
☞Product shipping form:That is, stand-alone equipment, complete sets of equipment or solutions;
☞Product classification:The standard of product classification, there are several categories;
☞Scenario:Products can be applied in which industries, mainly used to solve what problems;
☞Advantages of going to sea:What are the advantages of this product over other competitors in the industry?
☞Customer concerns:Is some technical parameters, or price, quality, etc.
These are all important elements for promotion. Identify all relevant information about the product, familiar with the product, you can set the keywords more precisely, write better quality advertising, more understanding of the characteristics of the target customers.
03 About the budget
Calculating how much you spend each day on your own budget, this question should be measured before you promote it, and how much of your budget depends on your business positioning, brand, available budget, business structure, industry, and ongoing advertising campaigns.
Although There is no fixed amount of Google advertising,But foreign companies are advised to set their Google ad budget at more than $1,000 a monthIf you're new,The minimum is $120 per month, and then adjusted to the effect of the promotion.
Third, what data should be paid attention to in the delivery?
So in the google ads at the same time, usually need to pay attention to what indicators to see whether the promotion is effective? Prior to this inquiry cloud shared a few important indicators for everyone,You can refer to the inquiry cloud vx article"You can see at a glance, you use Google to serve ads is "poor" or "excellent"I hope that every business owner has a basic understanding of Google advertising, in the promotion process less detours.
How to do it on a Google Ads accountTrack record inquiry conversions with precision?
The above data can help foreign trade enterprises to see the effect of delivery, but the foreign trade industry's target population needs to be very precise, which is fundamentally different from the 2C industry. And how many of the promotion is high-intention customers, Google itself is not known, because Google can not track your conversion results, so how to do?
Solution:Machine learning.
While Google itself can't track conversions, Google Ads technology allows customers to send offline single-related data back to Google Ads to get marketand and sales data through.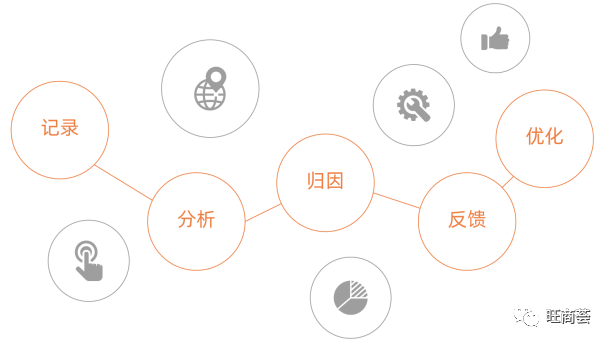 With more conversion data to learn, the machine will know more about what your target users look like, such as like to search what kind of keywords, like to see what kind of website, etc. , the machine will be better able to use artificial intelligence technology, to help you get more accurate inquiries.However, this operation requires the customer to have a more mature CRM system, as the following example is the inquiry cloud operating system.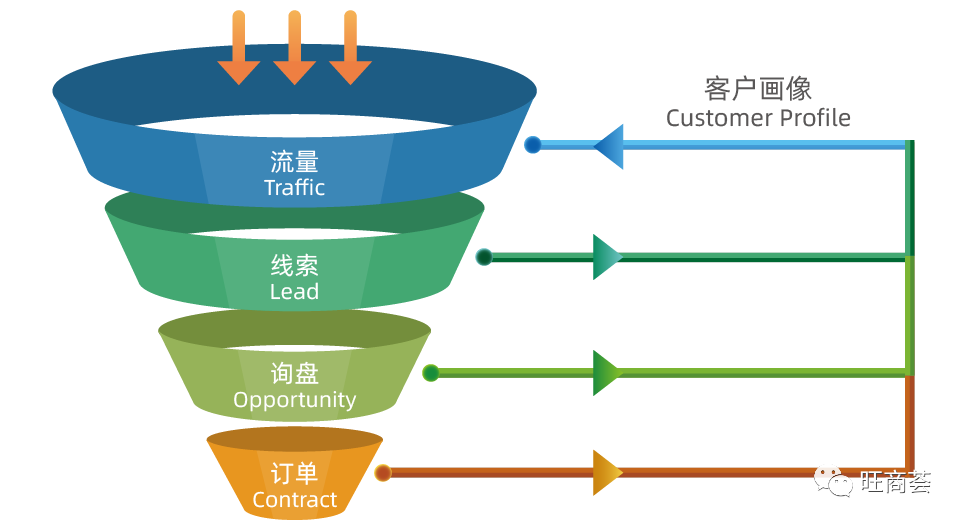 Inquiry Cloud System Helps Businesses PassFlow-to-order process dataMake a portrait, form a closed-loop feedback mechanism with the traffic end, and use your own marketing data to train machine learning for your own use,Tell Google which customers are "what I really need" to continuously optimize the delivery, let the advertising more accurate, reduce the waste of marketing costs, and gradually accumulate marketing barriers in the industry.
Note: Most of the above content collated from March 4 senior Google optimist Feng Jia teacher in the inquiry cloud live broadcast class"Senior optimist never-handed Google release cheat", want to watch the full video can poke the inquiry cloud vx public number menu bar live room .
Starting:https://mp.weixin.qq.com/s/0iycvjtmrzcTWVPkZXWuYA
Disclaimer: This opinion only represents the author himself
---