Realize traffic with the latest practical tips for google ads and marketing localization

In recent times, the trend of independent station swarming attracted the attention of many cross-border e-commerce sellers, including Global Tesco, Anker, SheIn and other head sellers have begun to dabble in independent stations, more and more small and medium-sized sellers have also started to independent station business layout.
But how to divert after the station is built? How to find the precise audience and develop marketing strategy, is still a lot of sellers at the moment of confusion?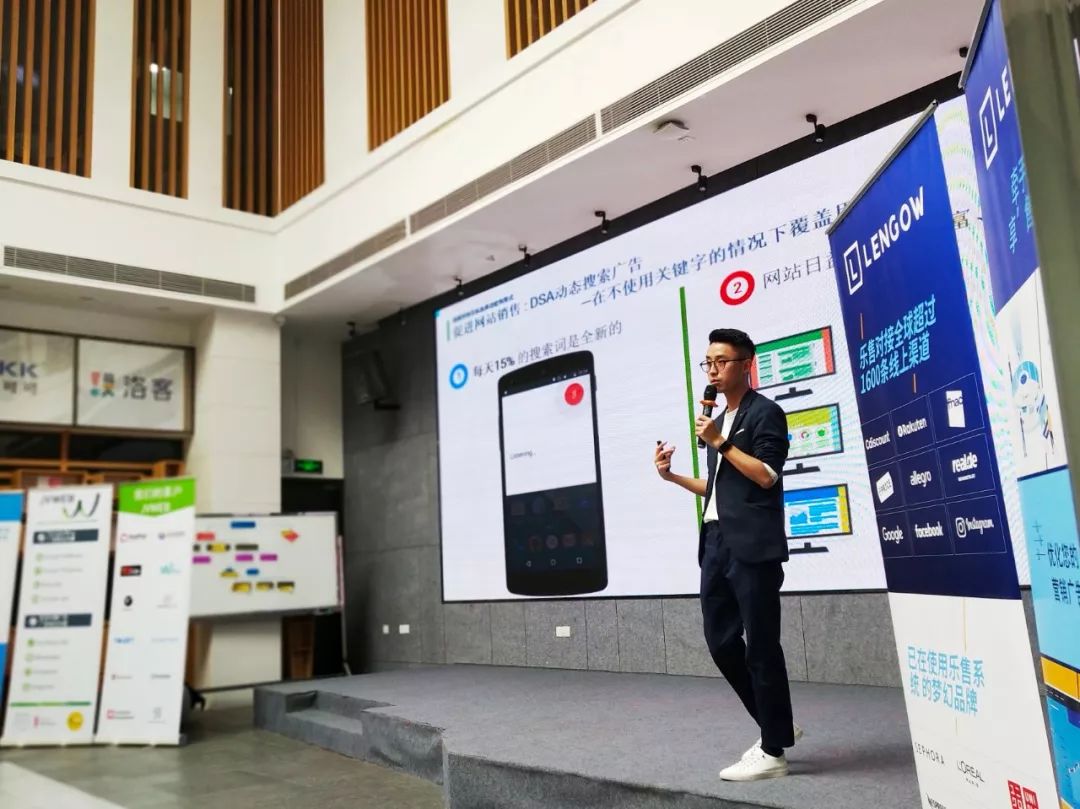 On April 12th, The Cross-Border Sent, in an offline salon co-hosted by French music sales LENGOW and Jvweb, "Enjoy Europe Win and Sell Overseas", was shared by Wen Hao, Commercial Director of Jvweb Greater China.Use the latest practical tips on google advertising and how to market localization to realize traffic"。

This issue of Salon Content
1. How to find the precise audience for its customized marketing strategy?
2, ad comparison / adaptive and ETA2.0 / smart shopping ads
3, for different marketing objectives, how to choose advertising features and forms?
4, how to maximize the effectiveness of advertising through the use of automation?
How to find the exact audience,
Customizing your marketing strategy?
When it comes to Google Ads, the first flash in the minds of many sellers is the keywords, in fact, behind each keyword there is still a lot of information hidden.
The first thing to mine is the audience:Who's searching.For segments of the population, do targeted information customization and advertising, in order to effectively increase traffic and revenue.
In other words, we can divide the popularity of the site according to the audience and the site into three categories, including the general customer, high conversion potential, potential consumers.
First, ordinary customers,that is, leveraging omnichannel customer data,Do cross-channel marketing。 After the customer has completed the purchase, all you have to do is to retain repeat customers. Remarketing for audience lists, and remarketing on aDWords platform using customer data using CRM channels, often results very well.
Second, high conversion potential customers,Refers toMultiple interactions with the site, but no conversions have been generated。 High conversion potential customers have visited the site many times, but have not yet made purchases, what needs to be done is to target these buyers, you can set up a unique audience list, such as the product has been added to the shopping cart buyers, the buyer who has browsed each page, or the search on the site buyers and so on.
Third, potential consumers,Refers to the focus on the competition,Continuous search, but no buyers visiting the site。 For potential consumers, we can get them through similar user lists and In-market lists.
Finally, for the needs of different users, AdWords provides IF capabilities that can be customized to the needs of different users.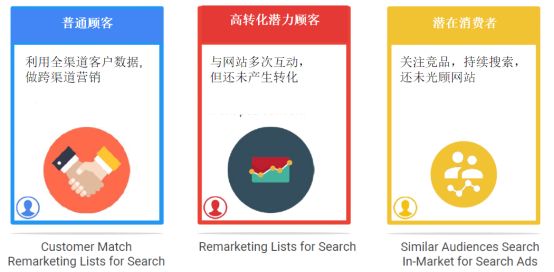 (Picture/Guest Wenhao PPT screenshot)

Test the latest ad form:
Adaptive s-ETA2.0/Smart Shopping Ads
Last September, Google Ads released two new forms of search ads: responsive search ads and plus-large text ads ETA 2.0.
Adaptive&ETA2.0Advertising
On the one hand,Adaptive search ads, with up to 15 titles and 4 descriptions, Google automatically displays different combinations based on search, automatically optimizing ad performance;AddLarge text ad ETA 2.0, which adds the 3rd title and article 2 description to the original version 1.0.
In terms of display ads, responsive display ads allow you to upload 15 marketing videos and 5 logos, and the system automatically optimizes all your assets for optimal advertising performance.
Smart Shopping Ads
In addition, when it comes to shopping advertising, Google Ads is the smart Shopping in 2018. It's a fully automated form of shopping ads that include search networks, display networks, YouTube and Gmail, with 20 conversions to existing shopping ads in the last 45 days.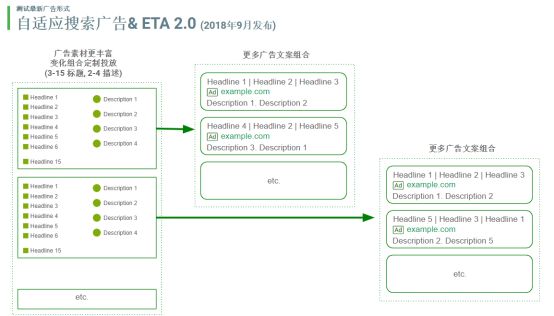 (Picture/Guest Wenhao PPT screenshot)
SellersSimply set the tROAS target and the machine maximizes the return on the goal by learningOf course, it is important not to lose sight of the appropriate adjustments made after the tROAS target has been set to further increase traffic and revenue.

So far, Google Ads has introduced new products, such as new forms of advertising, suggesting that cross-border e-commerce sellers can try more and use automation to greatly improve optimization efficiency.
For different marketing goals,

How do I choose the appropriate advertising features and format?
Google Ads is set and optimized with marketing goals.In terms of activity type, shopping ads are usually the most likely to generate conversions, because consumers have a clear intention to buy, display ads are relatively more used to improve brand awareness.
It is worth mentioning that in search advertising, brand advertising is more likely to be converted than non-brand advertising, which reflects the consumer's brand and website from constant familiarity, to recognition, to loyalty process. In the case of smart bidding strategies, the choice and objectives of the bid strategy are closely linked, otherwise it will backfire.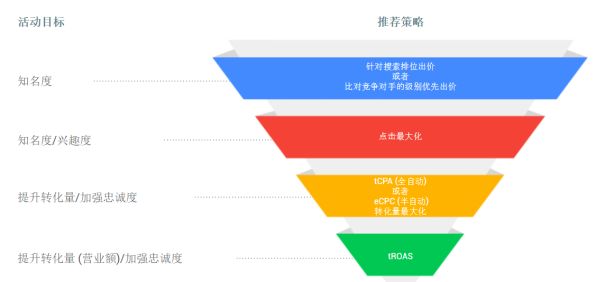 (Picture/Guest Wenhao PPT screenshot)

How to use automation,

Maximize your ad performance?
Much of Google Ads's innovations have been reflected in machine learning and intelligence. The benefits are obvious, on the one hand, huge data analysis, labor is often difficult to do, on the other hand, a lot of time-consuming work is handled by machines, not only to improve human productivity, optimizers can also spend more time in the process focusing on optimization strategy.
Take smart bid strategies, for example. Let's start with four smart bid strategies:
(1)eCPC
(2)Maximize conversions
(3)tCPA
(4)tROAS
Fully automated bid strategy requires a certain amount of conversion accumulation, in order to use smart bids as soon as possible to improve delivery efficiency.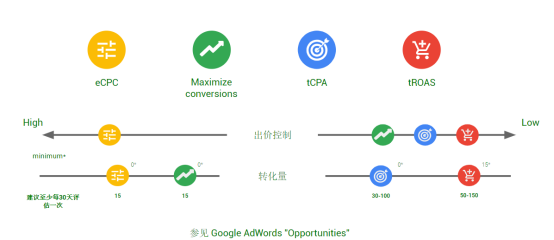 (Picture/Guest Wenhao PPT screenshot)
Suggest sellersChoose a semi-automated bid strategy (eCPC) at the beginning of the ad campaign's creationthis allows a quick transition to fully automated bid strategies (tCPA and tROAS). The former is good for increasing conversion volume, while the latter focuses on increasing turnover.
Tips for implementing Google Traffic,
What minefields do sellers need to avoid?
The vast majority of sellers feel that the key to accurate audience diversion is to choose the key words. But the truth is that Google Ads isn't just a keyword. Includes keywords, search terms, quality ratings, audience, impression share, time, KPIs, and more.
In the time geography and different forms of advertising comprehensive consideration, to optimize the content of almost hundreds of items, so that the seller only in segmentation, customization, continuous testing on the basis of focus, merit- and good use of automation, in order to ultimately improve the optimization efficiency.
JVWEB Digital Marketing Advertising Agency from Europe is a digital marketing service focused on improving advertising performance. Optimize to manage Google Ads and Facebook Ads for more than 14 years.
The JVWEB team recently released a newGoogle Ad Account Diagnostic Tool SEISO。
Use this toolJust 3 clicks,The account automatic diagnostic report is sent to your mailbox immediately after 5 minutesAnalysis from the 5,000-plus reports analyzed by JVWEB shows that diagnostic reports can save you an average of 30% of your advertising costs per month.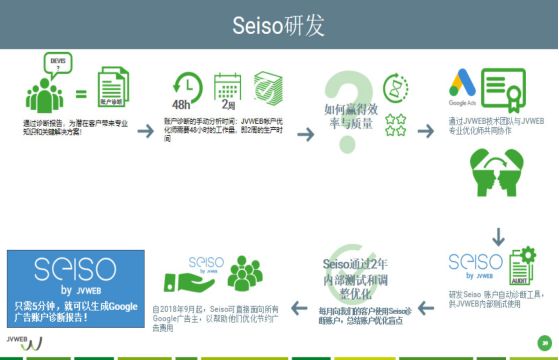 Seiso automatically analyzes ad serving data on Google accounts:
- Quality score analysis
- Keyword match type
- Search term evaluation
- Audience analysis
- Equipment analysis
- …..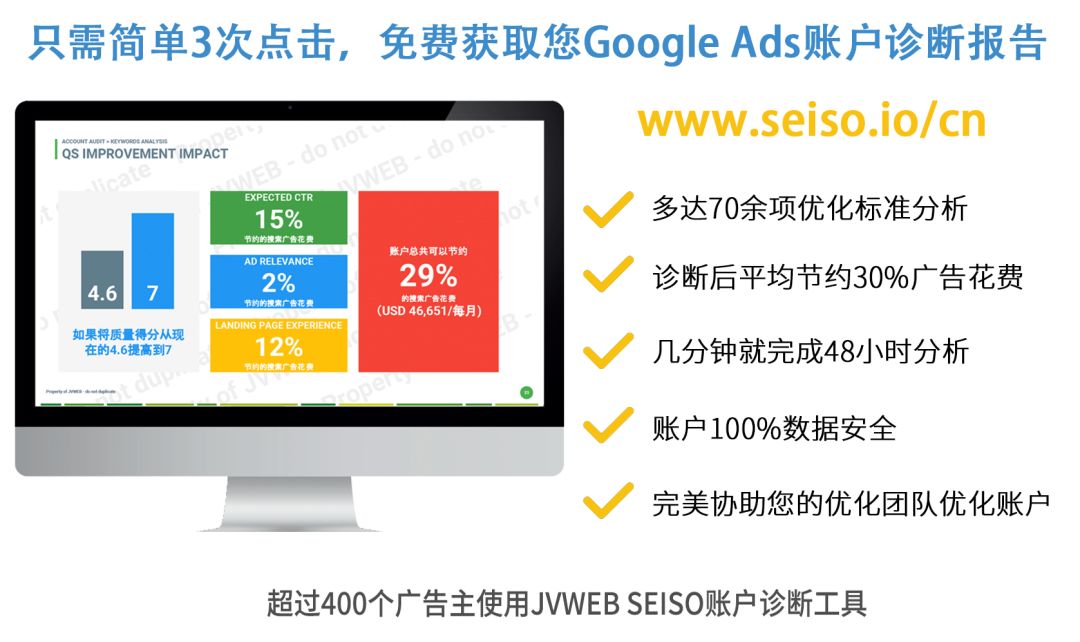 By analyzing the entire Google ad account, Seiso can help optimizers analyze data that impacts campaign costs and conversion rates to quickly and easily identify account issues and identify optimized hidden data to identify cost-saving opportunities and grow your post-campaign more effectively.
Now, this Seiso tool is free for all Chinese sellers!!!
Excited about this new technology?
Click on "Read the original text" and get a free experience!
—END—
---