The title determines success or failure! How do I write a catchy Google ad headline?
Click on topHugo.com, don't miss cross-border e-commerce size
Users are important to your first impressions of Your Google Ads, and your Pay-Per-Click (PPC) title is no exception. This article will show you 9 tips for writing Google ad titles.
Make the most of your creatives
It's hard to describe your business or product in a few words, so make the most of every title, which also applies to ad copy. Maximize your ad space with longer, more meaningful titles, descriptions, and path fields, so you can take more space on search engine results pages (SERP).
When you think about your own ad copy length, you can use the chart below as a reference.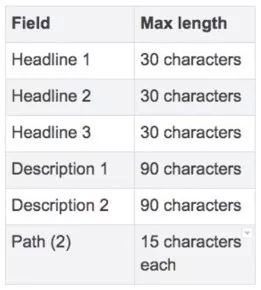 Understand your users' expression habits

The closer your title is to the searcher's query, the more likely they are to click on your ad. Create engaging ads related to their keywords and landing pages. In addition, the keywords used in the search are shown in bold in ad text, making them even more compelling.
But don't use keywords too much, you may be rejected because of the build-up of keywords. Naturally place keywords in your ads.

If your ad has a high click-through rate, but a low conversion rate, you'll need to show it directly in your ad and tell the searcher exactly what to do when you click on the landing page. Explicit call-to-call terms (CTAs) include "learn more," "buy now" or "call to make an appointment."
Enable your potential customers to take the expected actions and step through on your landing page. CTA helps drive potential customers in sales channels further and is more likely to lead more leads and higher conversion rates.
Highlight your differences
You need to focus on the sales propositions that set you apart from the competition. Why do customers buy for you instead of someone else?
For example, you can offer services such as "free trial" and "24/7 customer support" to further highlight your differences by introducing your business as a solution to related problems. In other words, you have to highlight in the ads others do not have services, products, etc.
Using prices, percentages, and dates in letter-filled search results pages does make it easy for people to notice your ads and get to know them quickly.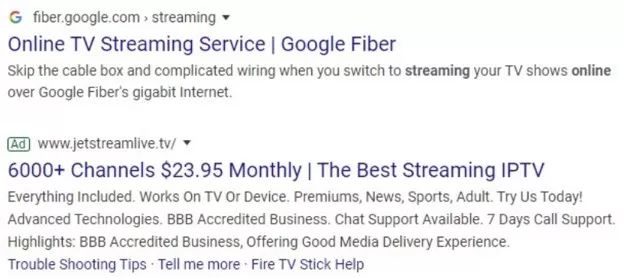 Digital users can get pre-determined data to build trust and let your buyers know exactly what they're going to get before they log on to your site.
Suppose you want to promote special services or expensive, higher-quality products. You're naturally reluctant to pay for clicks that don't bring conversions. By adding descriptive qualifiers such as "luxury service" and "starting at $99.95", you can avoid unqualified potential customers clicking on your ad.
In the image above, "Italian Wool, Made in Europe" and "fabric fabrics" give the impression that these men's suits are not cheap. To further communicate this information, they list the starting price in the price extension.
For potential customers, there is no better deal than a discount. So you can add current offers to your title, description, and ad extensions.

Use phrases such as "buy now," "sale ends 3/1" or "free gift while supplies last" to further induce potential customers to convert or leave them feeling nervous about missing out on offers.
The content of the ad should be real
The inclusion of misleading or false statements in your ad is very damaging to you.
Advertising "free shipping" in ads is a good incentive, but when your potential customers enter your site and realize they have to spend $150 to reach the free shipping threshold, they may turn to something else and offer free shipping sites with no strings attached to buying products.
Don't waste your limited advertising space, but highlight your unique selling points.
Don't forget to test your ad variants to find the right one for your business.
Try the A/B test and if you are satisfied with the test results, apply the changes to the current campaign.
Tips: Don't forget to check for spelling, punctuation, and grammatical errors in your ads. When writing international advertising (e.g. "port harbor" in the United States and "harbour" in Canada and Europe), don't forget the linguistic and cultural differences.
If you can't even spell it correctly in your ad, potential customers may think they'll go through other mistakes when doing business with you.
Hugo Network is committed to providing quality dry goods to sellers
Sweep code attention

Add a star, look at the text every day

▼
---