Which foreign trade industry is more suitable for Google advertising?

With the transformation of foreign trade enterprise form, multi-channel integrated marketing has become the choice of more and more foreign trade enterprises, including search engine marketing, B2B platform marketing, social media marketing, mail marketing, picture and video marketing, yellow page blog marketing, and search engine marketing in foreign trade promotion occupies a pivotal position, So what type of enterprise product is suitable for bidding ads on search engines?
Different industries have different industry characteristics, and the same industry potential customers look for products in different ways.
What kind of product customers prefer to find in the search engine, then the industry is suitable for advertising in search engines, but must pay attention to the individual customer advertising costs and customer conversion rate, when this input value and output value to achieve a positive ratio balance, then through foreign trade promotion to expand customer development channels.
1. Machinery and equipment
Machinery and equipment products due to the high cost of exhibiting, market demand is not high enough, and the product price is high special circumstances, then Google promotion is a good marketing method, through low-cost advertising input to bring inquiries, your booth costs equal to a search engine advertising a year's advertising costs, and search can cover 95% The above buyers, through the search engine click pay form, the minimum may be dozens of dollars can get a customer, for corporate advertising investment, is very cost-effective. 
2. Service enterprises
Service enterprises (education, tourism, training, logistics) because not suitable for exhibition marketing, search engine is a good way to promote, conducive to corporate brand image construction and customer acquisition, through low-cost advertising investment to obtain a large number of potential customers. 
3. E-commerce enterprises
E-commerce enterprises through the search engine advertising enterprises are very many, because of the cheap Chinese goods, many foreign consumers are willing to google to find Chinese products, including "dress" "wedding dress" "wig" "3C" "furniture supplies" "small jewelry" is the most common, through the accounting CPA way, Help e-commerce websites increase sales.
4.Chemical industry
Chemical industry is relatively cold, partial specialization, in the search engine advertising competition is low, high conversion, the cost is relatively low, and potential customers are used to search through search engines, very suitable for advertising.
5. Emerging industries 
Many emerging industries are more suitable in search engine advertising, emerging products market demand, but also mainly peer competition low, through search engine promotion, can get a large number of customers at the lowest cost.
Construction of foreign trade website(Customized design, multilingual choice, marketing-based, for the purpose of harvesting inquiries)
Agent of foreign social media promotion(Related to: facebook, linkedin, YouTube, pinterest, twitter, and Yellow Pages blogs, etc.)
Search engine optimization(Internal and external optimization, improve site search ranking, achieve lasting exposure)
Google Ads(Keywords pay promotion, precision promotion, the effect is immediate)
Learn more about the small WeChat you can add to the scan below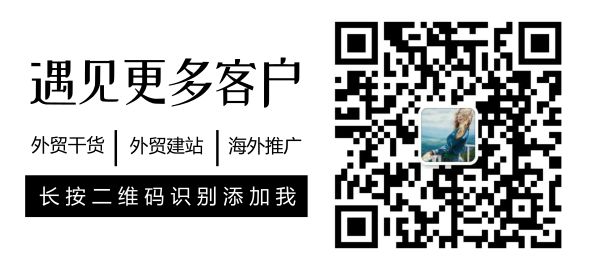 ---