Blue Label Media wins Twitter's industry-wide advertising agency credentials to help Chinese companies win global
At the beginning of 2019, Blue Cursor (Digital) Media (hereinafter referred to as "Blue Label Media") has further acquired Twitter's industry-wide advertising agency qualification, marking a further upgrade of the partnership between the two sides. It is reported thatIn April last year, Blue Label Media signed a strategic partnership agreement with Twitter, a global social networking site, and was designated one of the few official advertising agencies in Twitter China.I believe that this two industry leaders in the cooperation upgrade, will be want to go out to sea marketing of Chinese enterprises to bring benefits.
 Blue Label Media Joins Twitter to Help Chinese Companies Win Globally 
Twitter is one of the world's social networkmedia service providers, with an average monthly live user base of 316 million, of which mobile users account for 80%. In recent years, Twitter has become the world's top three Internet advertising platforms, along with Facebook and Google, with its high-quality users and traffic.
Twitter is not only an important platform for people around the world to share their ideas, interests and insights, but also one of the key channels for overseas promotion. Twitter has the advantages of cost-effective advertising, timely and effective advertising, friendly user experience, and accurate advertising performance. As a social media platform that produces hundreds of millions of dollars of content traffic a day, Twitter can provide companies with insights, bring traffic to stores, help get leads, and help brands achieve their business goals. 
Twitter is known to be very strict about the selection of official agents in China. Blue Standard Media has become Twitter's partner in China with its rich experience in the field of out-of-sea marketing, long-term trust from customers, core technology and products, and professional one-stop integrated marketing services. 
Pan Fei, chief executive officer of Blue Standard Media, said that in the next two to three years, the marketing business will also be in the stage of rapid growth, Blue Label Media is very optimistic about this business, will continue to increase in the field of marketing in the sea data, products, talent and other inputs. Blue Standard Media's out-of-sea marketing business from scratch, from small to strong, only three years, and the next three years, Blue Label Media will continue to enhance the technology, creativity and services, such as the ability of strong overseas media for China's sea brand, ushered in more rapid development of the sea marketing business.
 With Twitter, Blue Label Media helps voice-over boost son 
TECNO Mobile, a global high-end smartphone brand, is known for its TECNO CAMON line with high-end camera technology. Voice mobile phone hopes to successfully launch its high-end self-timer mobile phone - TECNO CAMON series, to build brand awareness and enhance customer awareness of the brand.
When Manchester City Football Club won the 2017-2018 Premier League (EPL) title, Blue Beacon immediately seized the opportunity to launch a Twitter campaign called "It Takes Bea" for the voice-over of Manchester City Football Club's official partner. The voice mobile phone combines this event with Manchester City Football Club's "Proud of War" club motto, with its high-quality craftsmanship in smartphones, and through brand collaboration with well-known football clubs, to resonate with the brand of the target audience on Twitter and enhance the brand image. The final positive sentiment about the brand increased by 39%, with 70.8K tweets and 220% of new fans.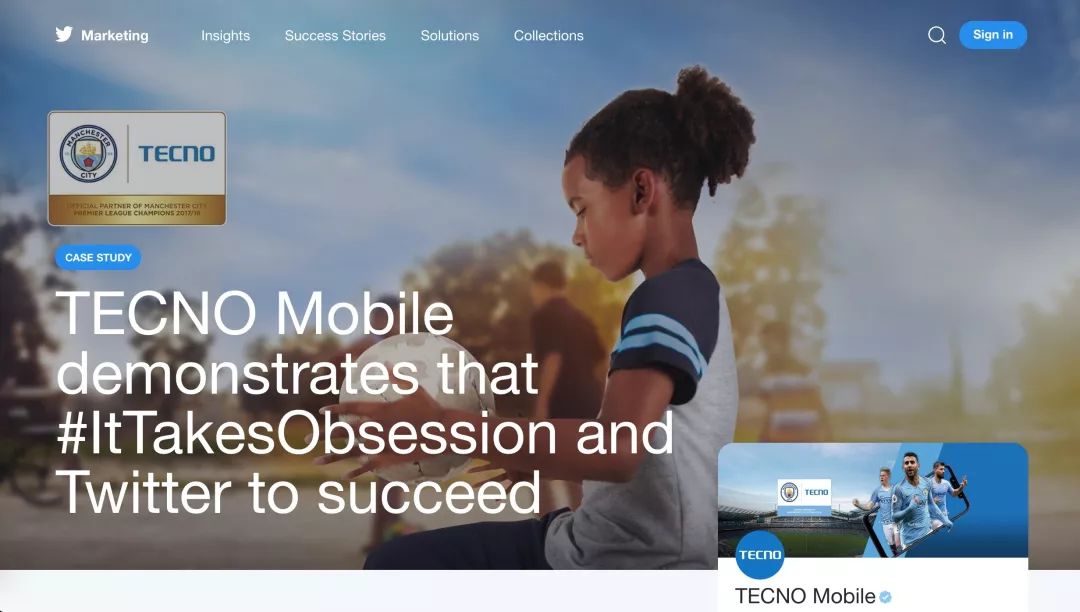 In recent years, there is a growing demand for domestic enterprises, but also more attention to the overseas mobile Internet platform advertising, I believe blue standard media will join hands with Twitter, for China's more domestic demand for brand merchants to win in the world to provide quality services and professional channels.

👇👇👇
More "Blue Cursor" reading
PRWEEK Ranking: Blue Cursor ranked no.1 in Asia, 9th in the world
Four engines drive the blue cursor higher and farther, Zhao Wenquan wrote to investors
Blue standard sitting in nearly a hundred patents and software copyrights to build the core competitiveness of intelligent management
Blue Cursor's net profit for the first quarter of 2018 was 153 million, up nearly 90% YoY
Good news . . . Blue cursor selected in Beijing public space, quickly see what benefits are there!
Blue cursor together with industry curry to tell the story of China, help Chinese brands go out to sea
Reprinted . . . WPP left blue cursor right marketing communications giant plot to break the ground
La Cala Blue Cursor Jointly Set up Big Data Research Institute to build a smart business platform
---