Differences in Facebook and Twitter ad conversion rates
  For social media such as Facebook and Twitter, is it high conversion rates for paid ads or natural ad conversion rates? In fact, the two are very different.
  One, Twitter and Facebook conversion rates are completely different
  According to APR 2014, the latest report from Convertro and AOL Platforms on the conversion rate of social media paid and natural advertising in the first quarter of 2014, social media varies widely.
  For Twitter, the conversion rate for paid ads is clearly much higher, at 3.9 percent, compared with 1.5 percent for its natural ads.
  For Facebook, the conversion of paid ads is less different from that of natural ads, which is 3.1% and natural ads, which are 3.0%.
  For Pinterest, it's the opposite of Twitter, where paid ads have a conversion rate of just 0.2 percent and natural ads 1.1 percent.
  In terms of the average conversion rate of social media, the average conversion rate of paid ads is 2.8%, and the average conversion rate of natural ads is 2.3%.
  Second, play the different characteristics of social media
  From the above statistical results can be seen, different social media advertising effect is quite different. In this way, the strategy of social advertising should play a different characteristic.
  For example, when it comes to paid advertising, money should be spent primarily on Twitter, not for Interest, while Facebook needs only a small amount of money.
  In terms of natural advertising, much attention should be paid to Facebook and, of course, to Twitter and Pinterest.
  Of course, the direction of the financial budget investment of social advertising is not so simple, but should also give due consideration to the next problem: in the different stages of procurement, the use of different social media content supply and interaction to influence their purchasing decisions.
  Third, the different roles of social media in different procurement stages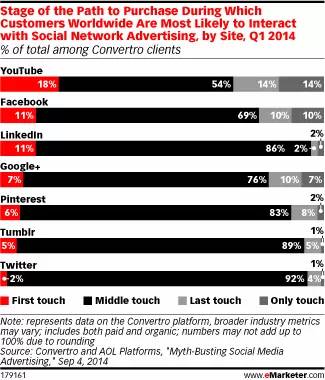 The procurement stage is divided mainly from the contact point, divided into the first contact, intermediate contact, final contact and unique contact and other contact stage, mainly to see the user interaction with brand advertising at different stages.
  From the reports of Convertro and AOL Platforms, youtube is the most comprehensive in four stages, with users likely to interact with ads on Youtube in four stages. In particular, users interact with Youtube the most during the first contact, intermediate contact, and unique contact phase.
  In the intermediate contact phase, users interacted most with ads on Twitter, at 92 per cent, followed by Tumblr and Linkedin at 89 per cent and 86 per cent, respectively.
  In fact, in general, the proportion of users interacting with brands on all social media during the intermediate contact stage is relatively high, at least at least more than 54%.
  Therefore, taking full advantage of all kinds of mainstream social media, insisting on long-term release of valuable information, and adhere to active and effective interaction with users, is today's enterprises and institutions must bear in mind two principles. (Author: Chen Yongdong, Researcher in The Field of New Media Creativity, Communication and Marketing, E-mail: cyd888@sina.com, WeChat Public Account: New Media Creative Communication)
---