Twitter - Another big advertising tool for Black 5 promotions
Since Facebook, the world's largest social networking site, launched a mobile version, other vertical or graphic social apps have also started overseas. Net-a-Porter has undoubtedly become the first choice for the promotion of the sea because of its high price, and Facebook's advertising platform has been praised by various advertisers for its good quality, especially by the game customers. But when it's the turn of social apps, most social apps are turned away by Facebook. The reason is , ha ha.
Just as the out-of-the-sea APIs were looking for other high - quality traffic, twitter appeared. Twitter users have more mobility and appeal than Facebook. Fifty-eight percent of Twitter users have downloaded apps in the past month, 36 percent have downloaded paid apps and 27 percent have paid for in-app purchases. Twitter users have an average of 25 percent more installed apps on their smart devices than the average smartphone.
In terms of user quality, compared to other traffic platforms, the application opening rate is 37%, the payment activation rate is 34%, and the ARPU value of the game is 24%. Its user retention is a big step higher than Google's, and Facebook's.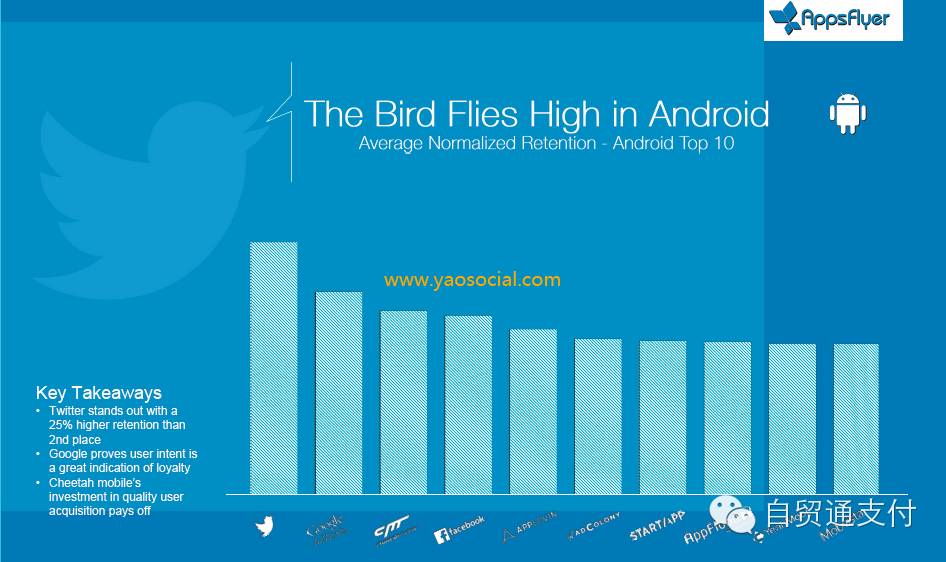 So how does twitter help with social apps? Here's a twitter promotion for a social app by Mobvista for case resolution.
One: Data differences
People who have done Adwords and Facebook should know that, comparing ad back-office data with third-party statistics, the difference in data between the two will reach 100% to 10%, both advertisers or advertisers, will be deeply tormented by their data differences.
But Twitter has little data difference! The installation data displayed behind the Twitter sceneis is all from data passed on by third parties. Twitter's own statistics are click-on ad data within 30 days, affected by different third-party statistical windows, 7 days or 14 days after the data may have a small gap, but this gap has been negligible.
Second, loyalty ratio and registration rate
Appsflyer defines loyal users as: open app three times or more user users.
In the IOS version, loyal user rate is up to 83.5% and registration is as high as 74.64%


In Android, the loyal user rate is 59.46% and the registration is 69.66%

Let's do a comparison of data from other channels, reference data with mobvista network, newmedia and Apptv (a channel name)
<a href="http:https://t.uncledesk.com/saasbox/assets/png/8fd1f1627d9a030ddc7596d8f66966c3.png" class="highslide-image cboxElement" rel="example4" 2327"="" style="color: rgb(1, 150, 227); cursor: url(http://yaosocial.com/wp-content/plugins/auto-highslide/highslide/graphics/zoomin.cur), pointer; outline: none;">

(Note: Since organic's loyal user number and registration data are zero, it does not participate in the comparison)
In contrast, it is easy to see that downloads from twitter are far superior to other channels in terms of registration rate.
Three Ad performance:
CTR: CTR is 23% higher than other social media ad traffic platforms
CPI: The more precise the positioning, the cheaper the price. The CPI for keyword-triggered ads is 80% lower than the general targeting, but keyword-based or Follower-based targeting greatly reduces the number of ad audiences and affects the download level.
CVR: The CVR of the tool app is usually about 25% on twitter, but the CVR for this social product reaches 35.15%.
On the ad platform, in addition to having a similar "similar audience targeting" to Facebook, "custom audience", twitter ads are more unique to the network advertising and search advertising platform characteristics. Carrier-based targeting, keyword-based advertising and Follower-based targeting have made twitter, a social advertising platform that is supposed to be a social advertising platform, search-like, making her stand out of the crowd on social advertising platforms.
4 High return on long-term investment
Twitter's long-term delivery pays off more than the short-term return. Since Twitter ads are essentially a tweet, ads will also be retweeted, and will be retweeted, so the amount of conversions from retweets is also quite amazing. Even after the pause, ad tweets will continue to generate 20% to 30% of conversions, and this portion of the conversion sings will no longer be charged.
If the advertising budget is tight or the delivery strategy is not in shape, it is recommended to use a third-party Twitter marketing software, automatically collect the fan archive of the target home page, automatically rotating the ad to post the letter, and can be counted, currently deployed on win environment VPS, one of the days in a hundred thousand people.
---