User growth, ad revenue dilemma, live streaming and internationalization can reverse Twitter's decline
Since last year, Twitter, which has seen executive departures, questioned neutrality and been used by the new president as a "megaphone", has been a thin-skinned one.Recently, the fourth quarter and full-year 2016 earnings report, while the number of active users continued to grow, but compared with several other social partners, Twitter's advertising revenue is not optimistic.

Growth in user base VS slows
Twitter has struggled to attract and maintain active users.Monthly Active Users grew to 319 million in the fourth quarter from 317 million in the third quarter, and MAU grew by 2 million, according to the latest results. But2016 was also the slowest year for the company's history, with the U.S. region barely growing in the fourth quarter.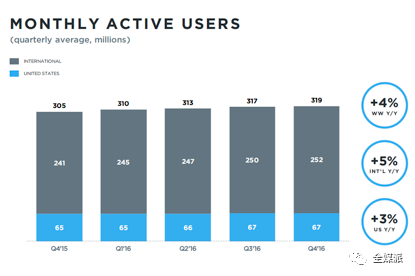 Snapchat has grown by 54 million users in the past 12 months compared with 100 million new users on Instagram since last June, and Twitter's total addition of 14 million new users in 2016 seems to be short-lived.However, it is not easy to maintain slow user growth in the middle of the old and new giants. In particular, Twitter's daily active users grew 11% year-on-year, up from 7% in the third quarter.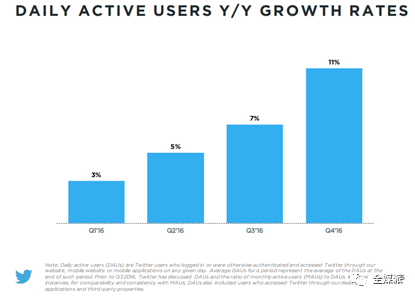 Thanks to Trump? Promoting a product is fundamental
Where do new users come from? Many people's first reaction was Trump. Indeed, the new president not only regularly posts his new ideas on Twitter, he even issues a presidential decree in 140 words. But then again, the president's frequent use seems to have given Twitter a lot of powder, but it also means that his opponents may switch to other social platforms.
Twitter CFO Anthony Noto认为,Trump's enthusiasm for tweeting has brought the attention to the platform."The president's use makes people aware of more of Twitter's capabilities,"But this is not a driver of user growth,"The growth of active users in the fourth quarter was mainly due toProduct changes and the application of marketing tools."
Product changes mentioned by Noto, including promotionPersonalized new algorithms and systems。 Many product adjustments are subtle: for example, what you like to see in the flow of information from people who are following them; the tweets you see are no longer in chronological order; and push notifications are more focused on the hot spots that occur at the moment.
From a simple real-time information acquisition platform to more reliance on algorithms to process information, Twitter's user experience is improving.While the easing also meant slow user growth, we saw the growth of daily active users double in the fourth quarter. Among them, machine learning is a key link in product and system improvement, related to whether the system can be more accurate and fast to the user to push content.Twitter's official tweet also said it would expand the use of machine learning.

It's also worth noting that Twitter has replaced the "moments" feature with "explore."The new explore feature combines trend, dynamic, search and featured live movies, and will be more personalized for users to discover what they're interested in.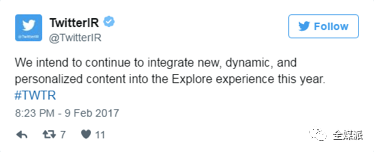 International expansion and live-streaming realization may save revenue slump
Twitter's advertising revenue in the fourth quarter of 2016 was $638 million, down 0.5 percent from a year earlier, while total revenue was $717.2 million, up just 1 percent from an analysis estimate of $740 million. Meanwhile, a net loss of $457 million for the full fiscal year. Shares fell to near four-month lows on financial concerns.Twitter predicts that its advertising revenue will remain weak in 2017.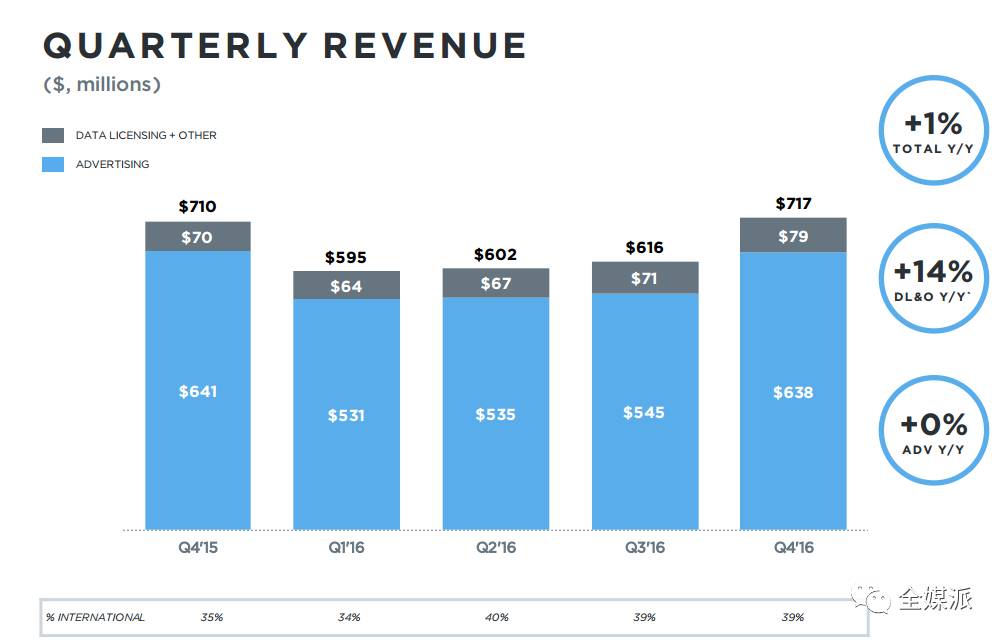 Such revenue expectations can be said to be side effects of slowing trends and frequent negative events. Until then, Twitter will be able to cope with its slow user growth with steady revenue growth. Now, even revenue is going downhill, and unless the platform tries to lure users back, financial problems will be hard to see for a while.
While Most of Twitter's revenue is still coming from the U.S., its growth in the international market is clear, and perhaps international business will give it more room to grow in the future.At the same time, previously overlooked revenue from data licensing will also be valued.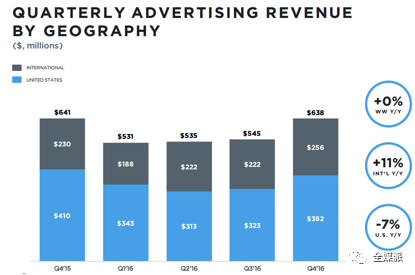 Referring to live video streaming, which is seen as the biggest growth point for its business, Twitter said that in the fourth quarter alone, users on the platform had spent more than 600 hours live and had attracted 31 million viewers.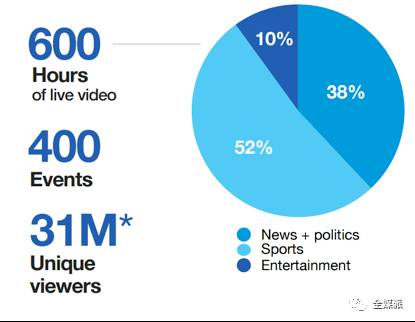 It is worth noting that theseThe video's audience is mainly young people aged 25 and underThat's a powerful shot for Twitter, which has taken a lot of time to do.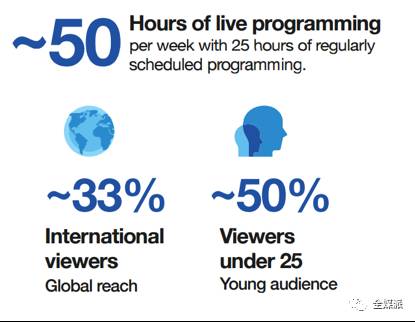 Twitter与NFLThe multimillion-dollar deal will also be officially launched in April, potentially bringing in more new audiences.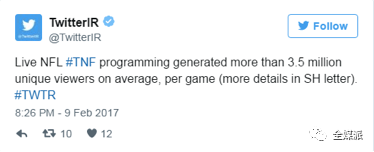 Viewers of the live stream represent a growing focus, but Twitter has yet to find a good way to cash out the live stream. The results also showed a total of 6.6 million hours of live coverage on Periscope in the fourth quarter.
With its ongoing iterations, massive uploads, and three good cards for active young users, Twitter still seems to have great growth potential, but it's still a long way to go.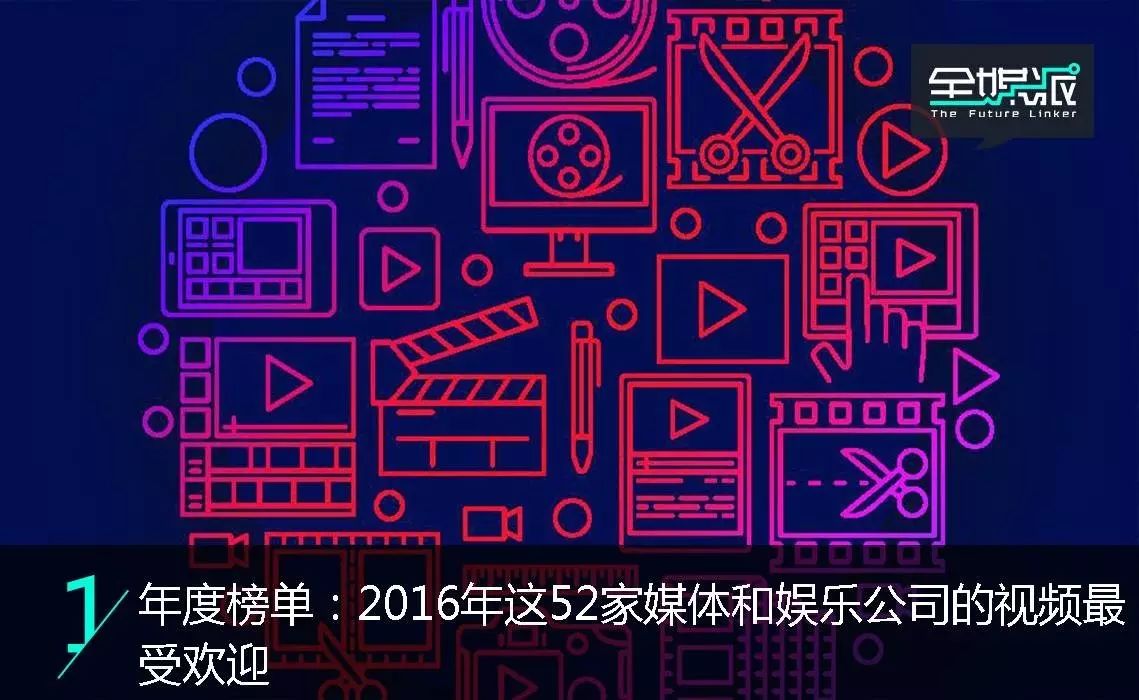 ---