Weibo Monthlive Over Twitter, Video Ads Boost Commercial Space
Yesterday (May 16), Weibo released unaudited financial reports for the first quarter ended March 31, 2017. Like previous quarterly earnings reports, the financial reporting figures remain gorgeous.
Weibo's revenue in the first quarter was 1.37 billion yuan, up 76% year-on-year, and net profit rose 278 percent year-on-year, exceeding the average Wall Street analyst's expectations.
After Twitter surpassed Twitter for the first time in October to become the world's most valuable social media company, the quarter's results showed that Weibo had 340 million monthly active users, surpassing Twitter as the world's largest independent social media company. Earlier, Twitter reported 328 million monthly active users in the first quarter.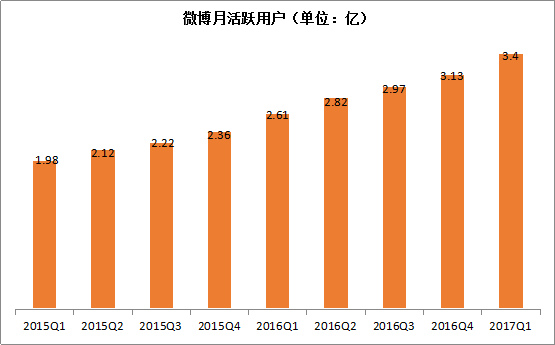 "Almost every Chinese Internet company is a clone of the United States, and prototypes can be found there, but almost every successful company has found a survival and profitability model that is completely different from the original in the future, " Wu said in one of his books. "
As it says, Twitter's once-pronoun microblog, now a product that is already very different from Twitter's, is now the form of Twitter, Instagram and YouTube, and has long been more than just a pure social media platform.
In The view of Mago, Weibo, whether it accelerates revenue growth, significantly increases its user base, or commercialization steadily advances, all benefit from the strong driving force of its video-based strategic direction.
According to Avery.com,In fiscal 2016, China's online video market was 60.9 billion yuan, up 56% year-on-year. As the user size expands and the user becomes more viscous, the commercial resources brought about by online video are appreciating and are expected to be 100 billion in 2019.
QusetMobile And CNNIC The data point out that entering the video market gives Weibo more room for users and business growth, and that the video industry has a larger user size and business prospects than the microblogging industry.
However, unlike other platform splaying, Weibo has not simply transformed itself into a video consumption platform, but is more focused on building ecology, such as building vertical content ecology based on the microblogging platform by increasing support for THE vertical AREA MCN.
It is important to note that microblogging is not a focus on video, not to cater to trends, but to advance the layout based on vision.
As early as short video and live streaming time is not on the wind, since 2013, Weibo has been involved in four rounds of technology financing, so when short video and live streaming in 2016 after the outbreak, micro-blog has undoubtedly become an important force to be ignored.
In the field of layout video, The core of microblogging is the layout of content ecology, based on content to attract users, and bring about commercial transformation.
In particular, the following include:
1, through the PGC-copyright IP-UGC to improve the content structure, micro-blog into an important platform for users to share and consume short video.
Since the beginning of this year, Weibo has continued to strengthen cooperation with copyright owners and the media, and the sports field alone has reached short video in-depth cooperation with the NBA, NFL, La Liga and many other world's top sports events.
During the Spring Festival, Weibo cooperated with CCTV and a number of satellite television stations, and the total number of videos related to the Spring Festival Gala reached 4.8 billion times on Weibo.
At the same time, light and shadow show, micro-blog story and other UGC video products have also been launched. This will allow users to get more exclusive information and unique social experience on Weibo, which will help weibo further expand the user base and enhance its stickiness.
When the original video UGC First platform announced a full transformation earlier, The move of Microblogging back to uGC seemed to be the opposite, but not without its justification. Instagram gives a compelling example.
Instagram posted its fastest growth in users with the Stories feature, adding 100 million in the first four months of the year. Instagram Stories' DAU accounts for about 50% of the station's DAU.
And the micro-blog story brings more exclusive content, unique product mechanism more in line with the habits of young users, may promote the growth of micro-blogging MAU. Currently, 10% of test users have converted to weibo stories.
2, support the vertical area MCN, vertical industry ecological construction speed up.
With the advantage of user size, Weibo has become an important platform for content producers to spread information and interact with fans. Celebrities and the media also generally use microblogging as a platform for information launch. The growing number of premium content has attracted more users to weibo. Such a positive cycle not only makes the user size and activity of Weibo continue to grow, but also promotes the optimization of weibo content ecology.
The vertical content ecology and the video strategy of weichannel also form synergies. As short videos become an important carrier of information consumption and social interaction, Weibo is also pushing vertical opinion leaders to strengthen video production and promote video consumption. In the first quarter of this year, head user video releases increased 176 percent year-on-year, and average daily video playback in March increased more than fivefold year-on-year.
In addition, Weibo also plans to increase the vertical industry ecological construction. At present, the micro-blogging cooperation MCN institutions have reached more than a hundred. Recently, Weibo announced the launch of the vertical MCN cooperation program, will be with the MCN agency to expand the cooperation to a number of vertical areas. This will not only enhance the social influence of the vertical sector, but also encourage MCN institutions and self-media authors to operate on Weibo, thereby driving the micro-blogging ecology.
Video advertising traction commercialization speed up
Weibo's advertising revenue reached RMB1.17 billion in the first quarter, up 80% YoY, with brand advertising revenue up 89% YoY, SMS and self-service advertising revenue up 97% YoY, and the marketing budget of the top 20 brand customers in the first quarter of the year increasing by more than 200% YoY.
This is due to the continuous expansion of the user scale and the continuous improvement of the content ecology, at the same time, with the popularity of user video consumption habits, video advertising is also becoming an important growth point of microblogging advertising revenue. Last year, Weibo just started to launch video ads, so that its own ads involving promotion, brand and video and other forms. The special value of video advertising was quickly accepted by big brands and small and medium-sized business customers, with weibo video advertising revenue accounting for more than 10% of advertising revenue in 2016.
The number of weibo video advertisers increased by 50% month-on-month in the first quarter. This year, Weibo will develop more video-based advertising products, and try to work with MCN institutions and copyright parties to build a commercial ecosystem, to expand the scale of video business.
The growth in the number of advertisers and ARPA on Twitter reflects the importance advertisers attach to social advertising. With the increase of social advertising's share in the online advertising market, Weibo's revenue is expected to double even if its share of the social advertising market does not increase.
According to eMarketer, a market research firm, China's social advertising accounts for 10 percent of the online advertising market in 2016, compared with 28 percent in the U.S. As advertisers gain recognition of social marketing and mature their marketing practices, the market share of social advertising is expected to increase, and Weibo, China's largest social media platform, is expected to gain a larger share of the social marketing market. Barclays Equity Research, an investment firm, also believes that Weibo's revenue still has room to improve due to multiple factors such as continued improvement in user engagement, the shift of advertisers' budgets to the mobile side, and the growing richness of microblogadvertising.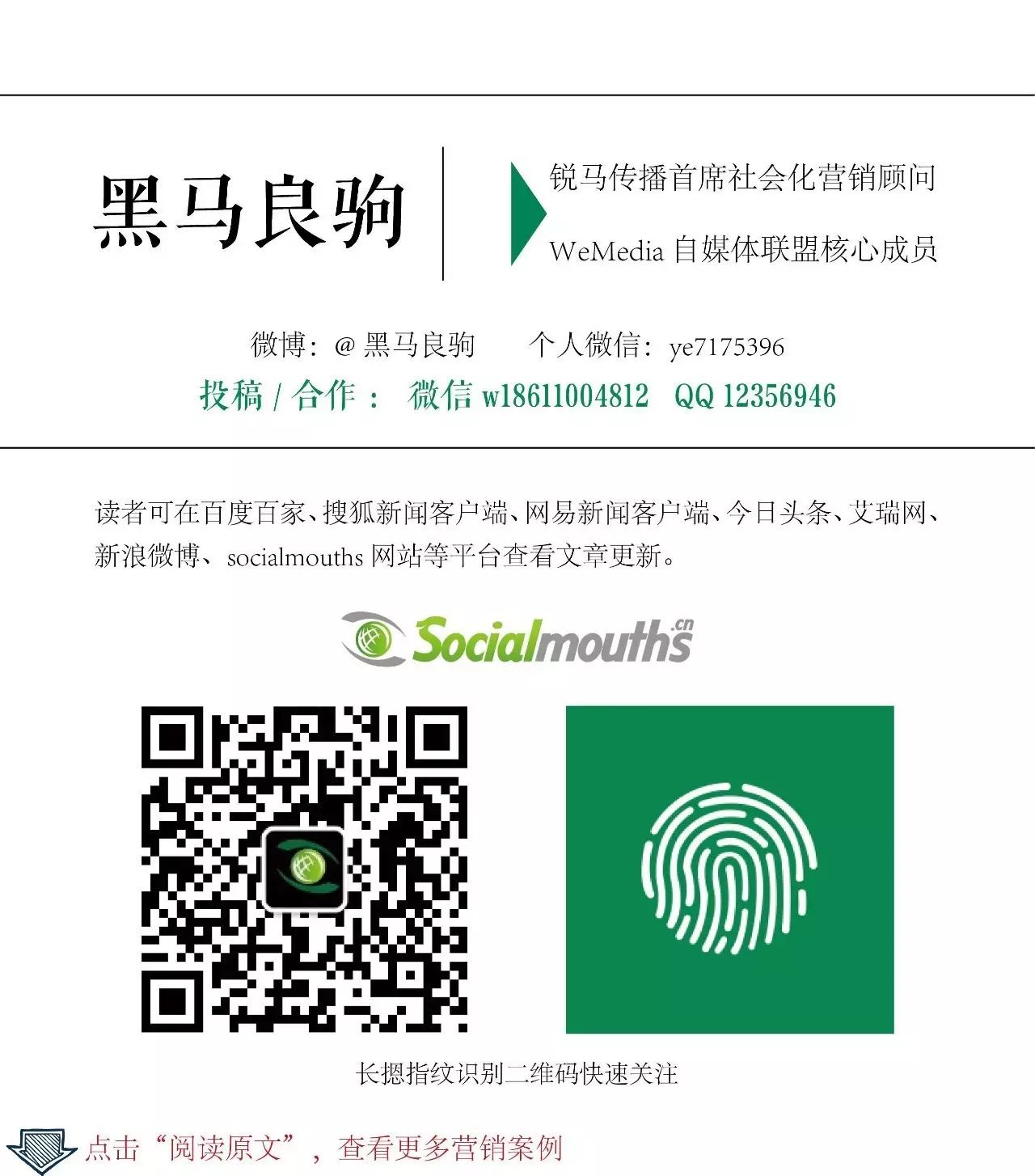 ---