Attention is only 8 seconds! Google Announces 3 Trends in YouTube Ads in Thailand

YouTube is a major platform for online marketing in Thailand, with more and more brands choosing to run ads on YouTube.Not long ago, Google Thailand announced the top 10 youTube ads in Thailand in the first half of 2017 and summarized three trends:
1. Focus on storytelling

Content itself is a major factor in attracting users to ad. Many brands choose to speak by speakingStory"The way we communicate demand to consumers. "Story" is associated with the characteristics of a brand, or is either dramatic, moving, or highly entertaining.

The length of advertising is not the main factor. The top 10 ads are between 1-11 minutes long.

2. The ferocity of the music content
Over the past few years, moving advertising content has been popular with Thai users. But last year, brands began to look for new perspectives on communication, and music-based advertising was fierce.。Five of the top 10 ads used songs as part of the ad.
3. Influencer (INFLUENCER) participation
Television ads are usually popular stars and so on as spokespersons. But the online/offline influencers involved in YouTube ads may be online red or YouTube content creators, among other things, because they have a strong fan base in the internet world.
Up to eight of the top 10 adsinfluencer participation.
YouTubeThailandUser behavior
This year, Thailand remains one of the top 10 countries on YouTube's global average viewing time. Eighty-nine percent of Thai users watch YouTube videos every day, and 71 percent watch you more than once a day, according to TNS and Google.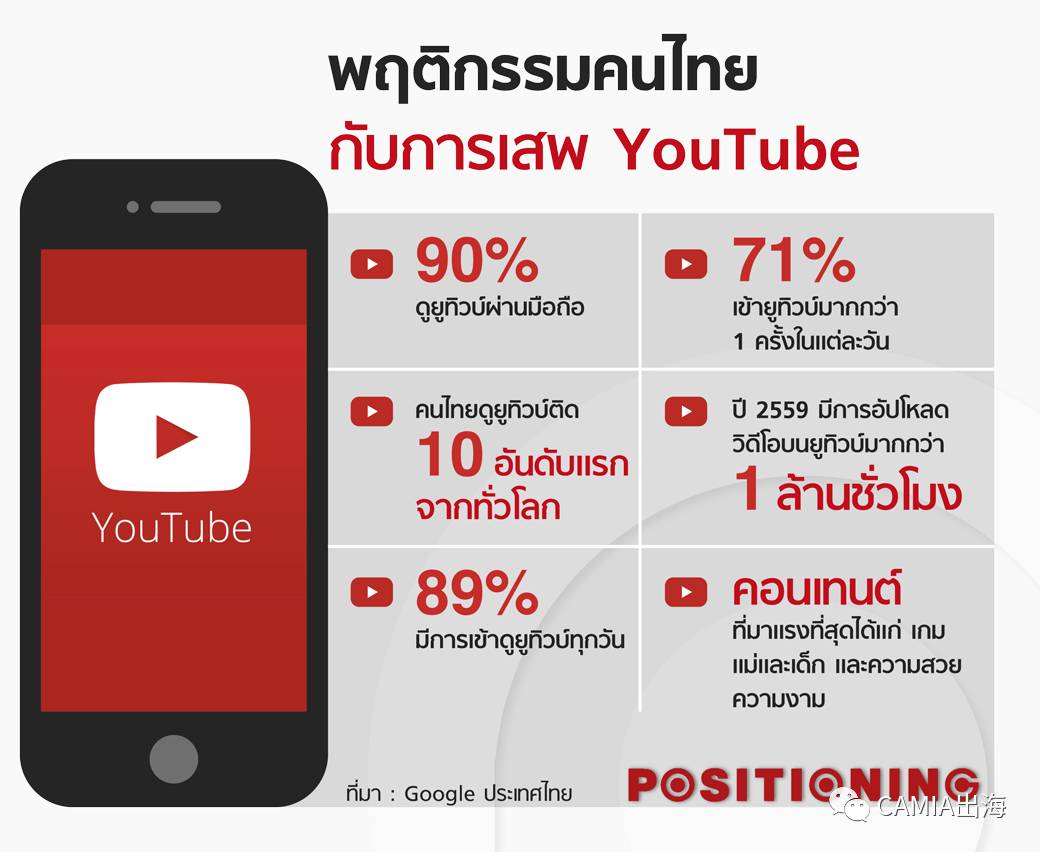 Three years ago, most users watched from the computer, but today, nearly 90% of the viewing comes from smart machines. Moreover, 61% of Thai users have spent more time watching YouTube than TV, indicating that users are spending more time on YouTube.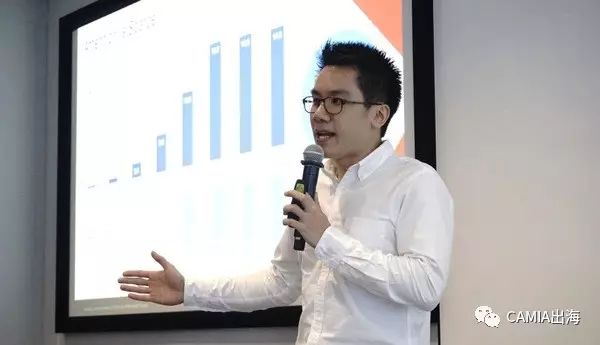 Last year (2016.04-2017.03Thai content creators have uploaded more than 1 million youTube videos, and in addition, YouTube's prime channel (with more than 1 million subscribers) has grown significantly, more than doubling in the past 12 months to more than 55.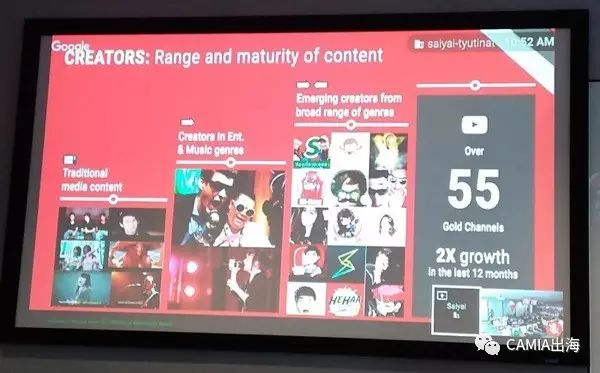 Google Thailand said: YouTube in Thailand, the launch of the initial, the gold channel for traditional media (such as GMM, RS, 3 and other entertainment media), and then entertainment music content creators more and more (such as VRZO, etc.), and then emerged in various vertical areas of new content creators, such as games, family children, Tourism as well as beauty and other fields.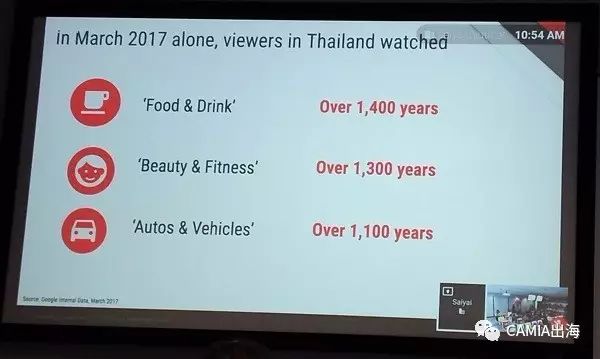 Thais are online for 8 hours a day, but attention is only 8 seconds.
Web Global Index survey found thatThai lifeTheMutualNetworkingThe average daily spend on the Internet is about 8.3 hours, with the mobile side taking four hours. And watch TV for about 2.3 hours a day, of which 75% are multi-screen users, will watch TV while playing with mobile phones.
Today, Thailand sells about 15 million mobile phones a year.As smartphone sales have grown, so has the number of multi-screen users, making the attention of Thai users shorter and shorter, from 12 seconds in previous years to 8 seconds, the challenge for marketers is growing."
Micro-signal: CAMIA out to sea
For more information, please find out at CAMIA's website: www.camia.cn

---
Thai Microfund 500 TukTuks invests in Baania for the first time in Proptech

Thailand Kbank, SUN108, Alipay co-launched self-service vending machine scanning Alipay QR code payment

Zanroo, a Thai marketing company, plans to enter 40 markets worldwide in 2019 to become Thailand's first unicorn venture

Uber and Malaysian taxi Gabungan team up to launch UberTax

Singapore e-commerce retailer and distributor Y Ventures listed on SGX plans international expansion

Indonesian state-owned bank BRI prepares to buy venture capital firm for $37 m

Financial product comparison platform CompareAsia completes $5000 B round financing Alibaba Investment

---