Easy review: From the Youtube ad: Google back Who's going to hang up?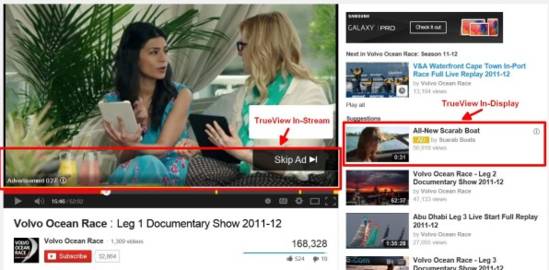 Wen/NetEase Technology Binghan
This week it suddenly emerged that people were interested in the length of the ads on the video site. In factYoutube5Seconds skip ads this feature is not consistent, when you skip too many adsYoutubeAds are also forced to play. But what the little editor wants to emphasize isYoutubeAdvertising texture is absolutely pleasing to the eye, broadcast more than a dozen seconds is not unacceptable, but look at the excellent soil or some other video sites, advertising content simplyLowto the pole. Some video sites feel contracted by game makers, flipping over and down to play those rotten games. The most desperate every time the page re-refreshed to see these long rotten ads again, and sometimes even the impulse to smash the computer.
Of course, Google's advertising policies have something to do with its non-evil beliefs. But even the world's second-largest video siteDailymotionIt also has the ability to skip ads.
Why is there so much difference at home and abroad? The personal point of the small editor is thatYoutubeSuch sites are mainly original content, Google does not need to pay copyright fees. (Of course you can find all the latest and most comprehensive Chinese blockbusters and Chinese TV shows on it, but for some reason Google is letting away pirated videos from China.) China's video sites are basically relying on copyrighted movies, TV dramas and reality shows to attract viewers, so in order to balance the cost of copyright, these video sites do not broadcast ads to kill you, it is strange.
But the main thrust of this issue is not to whitewash these video sites, but to pick up these by GoogleC2C(Copy toChinaWhat exactly did the technology companies bring us? The talk that Google is back is so high that these companies are expected to shudder.
Chinese GoogleC2C
Some people say Baidu, Yutu and other companies play isCopyto ChinaThe concept, that is, a new thing out of abroad, directly copied to China can be successful. However, this phenomenon began to evolve intoCrimeto China。 Google's credo doesn't do evil, but these Google apprentices in China are playing the opposite.
First of all, let's talk about Google's big apprentice Baidu. Baidu that year a more understanding of the Chinese, hit the Chinese market reputation. However, it is the bidding ranking that makes Baidu really start. Google's search also has ads, but it's definitely not a bid ranking. And Google's ads are a big square description this is the advertisement, Baidu not only put promotional links on it but also hide some in the search results. Spending money to get Google ads to sort search results has no effect, and Baidu, call Baidu's promotion department you know.
Take an example if the user in Baidu search "face mask" word, unfortunately the first three is definitely three promotional links. Tmall store, Korean mask hot sales, Estee Lauder, Baidu also specifically for each ad plus credibility rating, to show confidence to click. The top three are not enough, the last three also want the same ad again, this ad does a great job.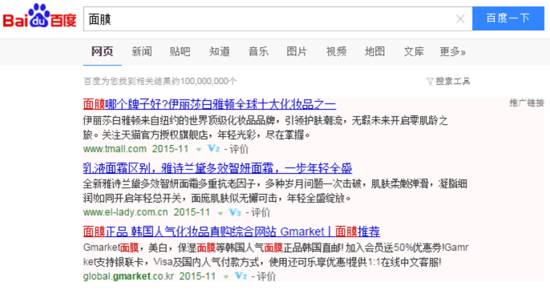 On the other hand, Google, the search for the first page of the "mask" is the use of mask, Baidu Encyclopedia, Google is not because it is a competitor to do, I suspect that the third-ranked fruit shell network in Baidu's mask search results simply can not find.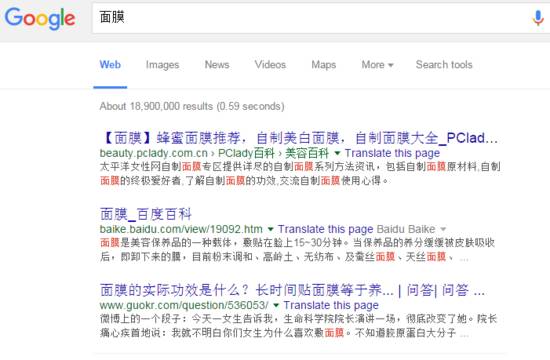 Baidu and Yantian Hospital that point of breaking, well known. At that time, there were media reports that users clickon on the link of the Hospital of Putian Hospital Baidu charge999Yuan. However, this dark relationship has now broken down, small editor also do not want to talk more, otherwise set fire to burn themselves, self-preservation is important.
Baidu mimicked Google's technology model, but blue than blue to make money things to do better.
Besides, Google's second-in-law, Youku, said that the only big thing the two apprentices have done over the years may be the acquisition of potatoes. Other times may have been imitating.Youtube, small editor suspectsYoukuThe word may be based onYoutubeinspired.
But the user experience of both is definitely not the same. We won't say anything about the advertisement. Youku does a lot of things with both the interface and the mobile app.Youtube1080pVideo has long been standard, Youku also want to come to a special1080PMember Zone. Youku Play's Fluency AndYoutubeA thousand thousand ri.YoutubeAdjusting the playback progress, or switching down the clarity is absolutely seamless. Youku, ka- and card, sometimes even cut and crash. Small editor has been thinking youku in addition to the advertising department, in the end there is no one to do technology development.
And Youku is one of the most failed Internet companies to mimic Google's imitation, without Google's technology and Baidu's ability to make money. Three and a half years.17Billions, the merger of potatoes also did not improve, and then had to sell Ali. Estimated that Youku thought just to take a pictureYoutubeImitating one can be a large amount of silver into the account, who knowsYoutubeIt's just a part of Google's ecology.YoutubeYouku has long been in balance, and Youku has lost more and more because it doesn't depend behind it. Of course, no.YoutubeThe biggest problem is the lack of international compliance. Uncle Bird can rely onYoutubeRed all over the world, Chinese artists rely on Youku out to sea? It is estimated that Youku himself is still in the port. Although there are objective reasons. But theseCopyto ChinaThe companyCopyCome on, and i've been there.ChinaIt's in there.
Finally, there are countless map sites. You did a good job on the map of China, but can you hurry up and internationalize ah? You can't ask everyone to buy a country.iPhoneLet's go.
There was a burst of news that Baidu and Nokia wereHereThe partnership began to provide a global mapping service. Results earlier this year to Barcelona, with a try mentality, in Baidu map searched Barcelona four words, the result is the domestic Barcelona style shopping street. Baidu this goods patriotic love never go abroad is also to convince people. There are so many terrorists in Europe now that we don't go. I searched for a Korean you point out a bunch of Korean barbecue sons what do you mean? Ya, look down on me to afford Korea ah.
Who's going to die when Google comes back?
Bear the first, various third partiesAndroidThe Store. What seems to be coming back first now isGooglePlayThe Store. it's back basic what360Mobile assistant, Android market, Baidu app assistant and pea pods can all be stopped. After allAndroidAll of them are Google's, and these app stores can only be called the overlords of tiger-free monkeys in the mountains. And some App Store programs are always out of the reach of viruses and malicious apps, believing that genuineGooglePlayCome back, no one will continue to choose a third-party app store.
Then ifYoutubeCan smoothly enter the country, that estimate shivers are not only the earth, LeTV and the art of the generation, even Ali will cry. Of courseYoutubeNeed to localize, after all, video sites in China is the concept of network television. But at least technically, from the user experience,YoutubeCan dump any Chinese video site several streets.
Then a variety of cloud disk, a variety of cloud word processing applications have fallen. Sina microdisk,360Cloud disk and what lenovo net disk inGoogleDriveThere is a slag in front of us.GoogleDocuments and Google"Excel"Basically, it can kill all the cloud office applications in China, saying it can replace Microsoft'sOfficeNot too much. Google's greatest strength in this area is its technological advantage. Google itself felt that the existing language was not adapted to cloud computing, so it launched aGOLanguage. Which Internet company in China has this strength?
Then companies like Xiaomi will find themselves developing applications that are not so multi-person, even usingMIUIThe phone isn't that good to sell.GoogleNow、GoogleFitGoogle Voice Translate and Google Calendar are all out, but mainland users have not experienced the realAndroid。 Google's many very good apps are not quite the same as Apple's counterparts, and some are even better.
NativeAndroidThe charm will burst again. Some say Xiaomi is the best.Android, but in fact the native is.MIUISelf -V4since the increasing deviationGoogledesign principles, the theme of which is replacedAndroidThe native version. Xiaomi or any one in the countryAndroidThe manufacturers didn't get it.GMSvalidation, that is, domestic theseAndroidVersion is only compatibleAndroid,AndroidThe core user experience has long since been completely out of sight.
But Xiao has to admit that even if Google gets the search back, it should have little effect on Baidu. Baidu has been in Google search in the years of the full spread of their ecology, later want to get a piece of Baidu's hands is not easy. However, Google searchback sits back for academic research andITPeople are really good. Baidu's English search is so bad it need not be mentioned, searching for foreign academic literature is a nightmare. There is a code problem can not solve directly ask Google just fine,StackoverflowSuch sites and Google seamless, debugging code no longer have to cry father call.
Conclusion
Google is back on the topic, and now in addition toGooglePlayOther than that, it doesn't seem to be reliable. I don't know how many people are still missingGmail? How many people still missGtalk? Five years on, our lives have continued. With the Chinese version of the various types of Google applications, found that there is nothing wrong. It can only be said that human beings are very easy to adapt to the environment of species.
Google's absence has boosted the development of China's Internet industry, with Chinese Internet companies filling up, and Google's parody games in the works. It's just that we always find ourselves using services that lag behind the foreign era. Excluding China,Chromehas long been the world's number one browser, and as of this year7MonthIEMarket share in China still39.12%。 It's all thanks.360and other browser processing plants.
We emphasize the era of globalization, the emphasis on connecting with the world, as a result, social networks are basically invisible half of foreigners. Even Ali's listing has made such a big move, and as a result globalization is still dependent on the purchasing power of overseas Chinese. China's Internet has been self-entertainment, when can be fun and entertain people?
(The subjective statement of this article represents only the individual opinion of the small editor, not the opinion of NetEase Technology.) )
---
Small easy to recommend
For more exciting and interesting content, welcome to the NetEase News Client - Technology Frame.
Watch the news, read the follow-up, find us here!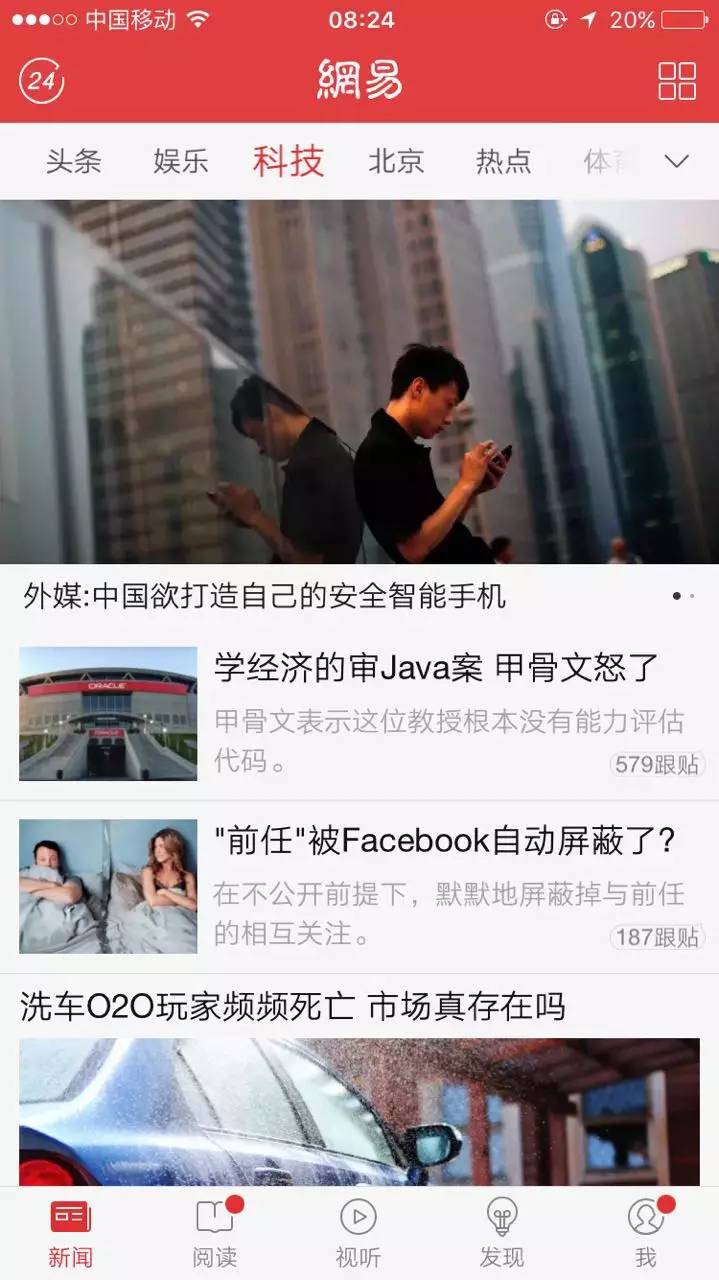 ---