How to use Youtube video ads to increase brand coverage and visibility.
Youtube can be said to be really new to us now, I believe that we have heard and witnessed a certain domestic network red live on Youtube or release video to make a pot full of profit, this can be said to be a kind of content cash, but, this article, to explore how to explore how to through Youtune ads, to increase brand awareness and sales of product services.
First, list some of Youtube's strengths.
1, the daily broadcast volume of 5 billion, a huge crowd active in the Youtube platform to browse a variety of information, and your ads, the opportunity to reach everyone in your products or services interested in.
So, think about what your target audience is like.
2, the use of audience targeting, you can accurately target customers.
Three magic tricks: topics, keywords, interests.
They actively search for research topics, looking for the key words of related products, they are studying or have what hobbies, with such data, the customer base will be accurate and profound.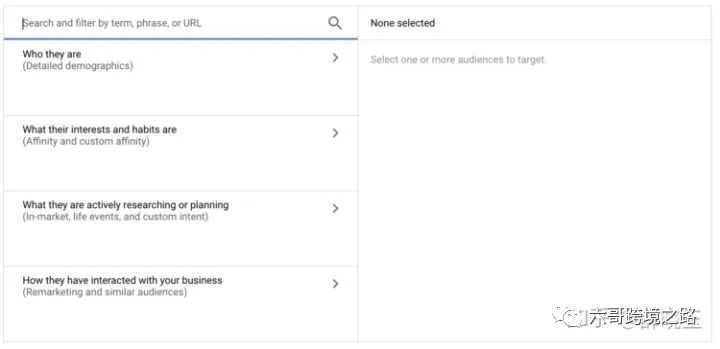 3, to meet different needs of the ad type
Whether you increase subscriptions, product coverage or website traffic, you can use youtubeg ads to promote promotion, storytelling, sharing messages, providing topics, product reviews and so on.
There is also an important factor in this, compared to Google search ads and display ads, video ads relatively low price, interstitial ads CPV (per watch fee) an average of $0.3 discovery type CPV $0.1.
4, the system's data reporting and traceable ROI
Of course, almost all of this advertising platform is available, youtube is no exception, backstage data, let you clearly see that type of advertising works best, watch length, and viewing rate and so on, if tied to Google analytics tools, you can also clearly compare which ad type input and output ratio is the highest.
When it comes to advertising types, we have to look into them, and the little partners who have seen my youtube ad teaching should have to know that different types are suitable for different occasions and goals.
There are three kinds of Trueview/Pre-roll/Bumper, you ask me why I drag English? Not I think, is really not good to find the corresponding Chinese, can be poor notManyUnderstand that search display ads, interstitial ads, do not skip ads, there are barFinePlease take a detour.
To put it all, start with Trueview, this form of video advertising is not only on youutbe channels, but also on GDN (Google Alliance Display Network), this type of ad, and two branches, called In-stream and DIscovery ads, which is an interstitial, A skipped ad that appears at the beginning of a video, or in the middle, or at the end, and another type of search discovery ad, a search within a youtube site that can be triggered.
In contrast, although In-stream can skip after 5 seconds, but can add CTA, call on customers to take action, this kind of advertising on the advertiser requirements are relatively high, need to ensure that there is high-quality content output to attract potential users, so here's the small Tip is, make sure your logo and company name appear within five, Get as much brand exposure as possible, however, this type of ad, which customers watch for less than 10 seconds, does not trigger a charge.
Discovery ads, discoverads, appear on youtube search pages or on the right side of the bar, this type of ad is best suited for teaching, evaluation and other ads.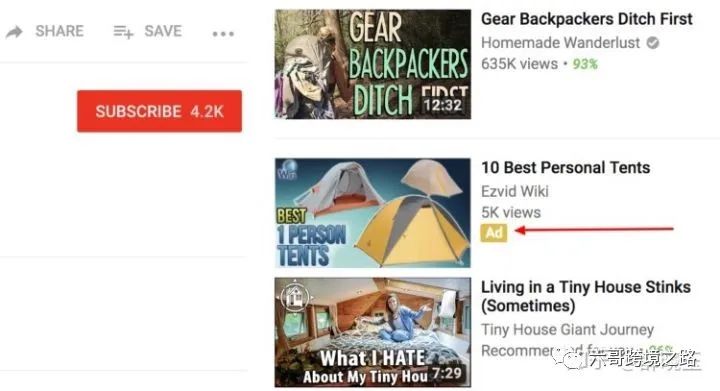 Next, talk about this non-skipable interstitial ad Pre-Roll and Bumper.
Pre-Roll, powerful, non-skipable, 15-20 seconds, adding CTA here is especially important and is the best type of ad to encourage customers to take action
In addition, be sure to take advantage of the accompanying advertising banner of The Companion Banner in the right-hand column to remind customers of boosting conversions.

Look at Bumper Ads, sigh, the time is a little short ah, here I did not drive ah, he really can only support 6 seconds, although also can not skip, so, only by some big brands to make good use of up, enhance brand image.
Of course, these types of advertising can try to do, but, to do more with less, do not forget the nature of advertising, that is, constant testing, testing and retesting, and reasonable use of the flow pool for secondary marketing, and constantly improve ROI is the king.
---